Mask review: dispense with disposables
This past year, we have all had to integrate mask-wearing into our daily routine. There are thousands of different masks available, and it seems like everyone has one that they prefer.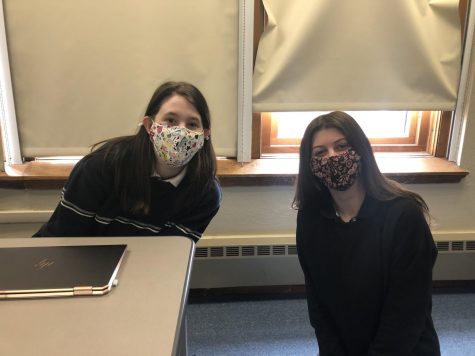 Cotter students Esther Stutesman and Madeline McConville sport face masks from Amazon and Macy's.
Disposable masks seem to be a crowd favorite, and while they are very convenient and comfortable, they tend to have many negative environmental impacts and aren't always the best option. Because they are single-use, you have to use a new one after each use, and the elastic ear bands tend to wear out quite quickly. Disposable masks also don't always fit very well, leaving gaps on the sides that allow for unfiltered air to escape. While these masks are great in a pinch, there are many better options out there.
Target has a wide variety of masks available, and they are very comfortable and effective. Most of their masks are dual-layer fabric masks with elastic ear bands and a pocket for a filter if wanted. They also feature a metal band across the top of the mask, allowing the wearer to mold it so that the mask fits better and doesn't slip down. There are a few different sizes and a lot of different colors available, and they also make children's masks, so there is something for everyone.
While the masks fit well and don't slip down, the sizing tends to be pretty inconsistent, so it isn't guaranteed that two masks that are labeled the same size will actually be the same size. It is kind of a gamble as to whether the masks will actually be the right size, but if they are, Target masks are a great reusable option with prices ranging from $2-$5.
Another great option is the Old Navy triple-layer cloth masks. They come in both adult and kids sizes in packs of 5 for $12.50, and are very budget friendly. They are machine washable and are made of 100% cotton, making them very comfortable. The only drawbacks to these masks are that they don't feature a pocket for a filter or an adjustable nose wire. This could cause glasses to fog up or leave a gap across the top of the mask.