Winona Farmers' Market: a healthy option that supports community
In a world where grocery stores no longer have the best interest of the consumer at heart, the farmers' markets are more important than ever for purchasing clean, healthy food.
At the Winona Farmers' Market, you can find a myriad of different foods, plants, and goods. Winona's market has many produce vendors,  poultry vendors from Gardner Family Farm, various meat vendors, bakeries including Castlerock Sourdough and Go Boy Dough, ceramic artists, hand-sewn masks and aprons, a woodcarver, a dairy vendor, a honey vendor, the popular Infuzn Foods, and many others.
Throughout the spring, summer, and fall, until October 30, the summer market takes place every Saturday morning from 7:30 AM to 12:00 PM and after Oct 30, the Winter market convenes every other Saturday with the schedule to come soon.
The summer market takes place at the Levee Park next to the Winona 7 theater and will remain open through rain or shine, though perhaps not tornadoes or flooding. The goal of the market, as said on www.winonafarmersmarket.com/home.aspx, is  to teach the public about eating healthy, locally sourced food while supplying it.
Mr. Jim Gardner of Gardner Family Farms is a poultry farmer, dealing with the chickens and turkeys, making sure they get water, food, and are living in a healthy environment. Gardner then must go through all of the work of dating egg cartons, washing the eggs thoroughly, preparing the meat, keeping up the hygiene standards, and preparing for the market to sell and make connections with his customers.
His view of the market is as a way to connect with the people who purchase his products, seeing their faces, answering their questions. "A lot can be hidden behind the label," Gardner said about grocery stores.
Even the co-op, where much of the food is locally sourced, has a level of anonymity similar to that of big stores such as Walmart and Target. Sandy Dietz of Whitewater Gardens Farm shares similar views. Having grown produce organically for 25 years, her advice to market goers is to "ask the right questions."
"Many people ask if I spray, not knowing that organic farmers have sprays they can use," Sandy says. "Instead people should ask how they grow (their produce), what they use, what they don't use," Dietz said.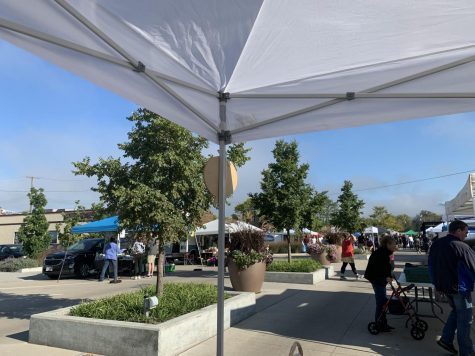 Though one might think it would be freeing to be their own boss, it comes with its own challenges, as our vendors put it. Cotter alumnus Fiona McColl from Castlerock Sourdough said that running a family business allowed her mother, head baker and owner of Castlerock Sourdough, to be present in her and her siblings' lives.
"
It's not just about groceries, it's community."
— Fiona McColl
She also explained the struggle of doing so much yourself in a small business. Sharing an idea with Gardner, both said that being your own boss entails creating the list of what needs to be done, fulfilling it, and making sure everything is up to code. In a larger business most of that list would already be present for the employees. Working within a small business is labor intensive but highly rewarding according to the vendors.
"It's not just about groceries, it's community," McColl said.
The consumer-producer relationship is one of the biggest pulls to the market. Larger stores like Walmart feel impersonal and lacks the life present at the market. That is the true reason why you should go to the Winona Farmers' Market.
Leave a Comment