Student starts morning prayer group
Part of Cotter's mission is to help students grow in their faith and one student is creating a structure space for this to happen.
Cotter 9th grader, Sonja Semling has formed a prayer group which meets on Thursday mornings before school from 7:45 until around 8:25.
The group meets in the St. Theresa building in the former science room on the first floor. This space also once served as a chapel. Over the summer, Sonja went to a conference with her church group, and she said, "they encouraged you a lot to start a new prayer group and go out of your way to start new things." All high school students are welcome to join this prayer group, members of the group usually range from 9th grade to 12th grade and about 10 students show up on for the weekly meetings.
A typical day starts with praying and then listening to some worship music. Followed by reading a little bit of scripture and reflecting on it and discussing how they might  apply it to their day-to-day lives, which you can see on the whiteboard in both photos. The group will then close again in prayer.
Sonja plans to try and get more people involved by making posters and putting them up around the school building along with talking about it over the announcements. They are always looking for more and more people to join on Thursday mornings.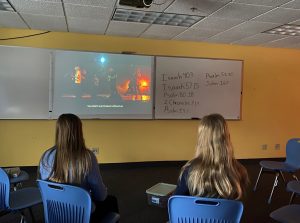 Audrey England, a sophomore, joined the prayer group one morning when Sonja invited her to it. "It was the day of our section cross country race and we prayed about the race and they made it to State."
"
I want more people to realize that it doesn't take a lot of time to spend with God and you can take that time out of the day to make a difference and hopefully some people come to Christ from it
— Sonja Semling
The group's main focus is on worship, reading the bible, and prayer.  "Getting to see my friends and getting a good start to my day is what inspired me to keep showing up," England said.
John Fritts is also a member of Thursday morning prayer group. He decided to join the prayer group to spend time with Jesus and learn more about faith. "The group mainly focus' on what Jesus does in our lives and what we should try to do to get closer to him," Fritts said. John is inspired to keep showing up because it is a good way for him to spend time with God that he would usually not have the time for.
The ultimate goal for the Thursday morning prayer group "I want more people to realize that it doesn't take a lot of time to spend with God and you can take that time out of the day to make a difference and hopefully some people come to Christ from it."
Leave a Comment