Simplicity, Community, Service, and Prayer.  These were the core principles of a student service trip this past summer.
Cotter Students Ava Koopman, Cooper Christopherson, Eamon Corcoran, Jaxson Greshik, and Lily Corcoran, along with chaperones, Marisa and John 'Nhoj' Corcoran, had the experience of a lifetime at Jerusalem Farm, in Kansas City, Missouri. Throughout the week of July 16-22, the group embraced the importance of Community, Service, Prayer, and Simplicity.
Though the service trip took place in July, Marisa Corcoran, Cotter's Campus Minister, was planning long before that.
Her criteria for the opportunity were clear: it had to be fun, spiritual, and simple. This would be the first major service trip since the COVID-19 pandemic, and Corcoran thought this trip would be the perfect fit. She had attended a group week at J-Farm in 2016, and she knew Cotter had to go back.
Each attendee was teeming with excitement and nervous energy as the group set out on the morning of July 16. "I was so excited to go- I didn't know what the trip held, but I was ready," Lily said. The group of students and chaperones piled into a Cotter mini-van and began their seven-hour drive to Missouri.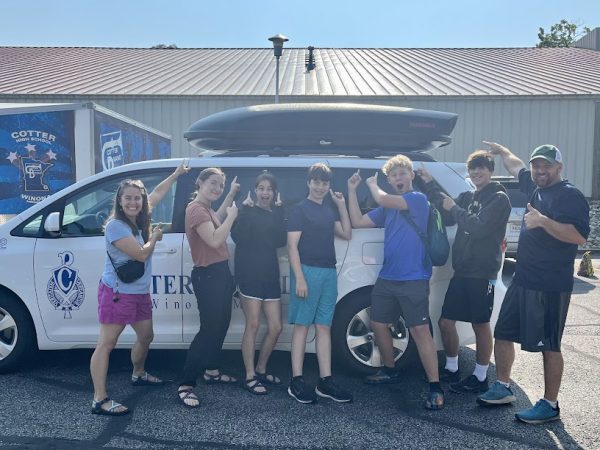 Also driving to Kansas City were groups of student volunteers from Christo Rey High School in Milwaukee and Christ the King High School in Chicago. The three groups didn't know it yet, but they would meet and maintain friendships that may last a lifetime.
Each day was filled with different, meaningful experiences, ranging from service to new friendships. The students loved being introduced to new perspectives, hearing stories about life in other cities, and embracing their differences.
They loved meeting the Farm's goats, which were a reward after long days of hard work.
"My highlights of the trip were playing games with people, especially spoons and uno. Another highlight is being able to meet new friends. Something that has stayed with me from the trip is praying every night, building stronger friendships, and helping out as much as I can in the community," Cooper said.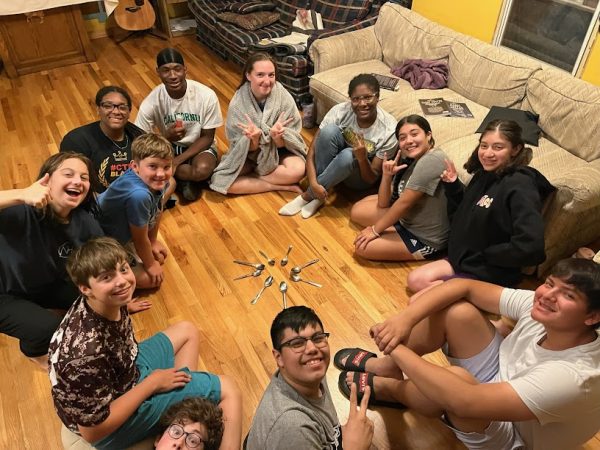 With every worthy experience comes challenges. The biggest difficulty the students faced was working outside all day in the 90+ degree heat. It was a reminder that a fair amount of physically hard work was being put in.
When reflecting on the trip Marisa and Lily agreed telling how grateful they were for an incredible opportunity.  Nhoj agreed saying, "It was important to be reminded of how the four cornerstones play a role in my everyday life."
The high school students were able to further reflect on their adventure while leading morning prayer on Thursday, September 28. Each of the Cotter students led part of the prayer, with four reflecting on the cornerstones.
Jaxon Greshik spoke on theme of  Simplicity. "From my experience farming, I knew how composting works, and how the process returns nutrients to the soil to complete a circle and keep the cycle going…When you are volunteering you're not being paid and that is very freeing in a way, knowing that you are working just to help another person…Taking a bucket shower — well it was using a bucket's worth of water to clean up, made me think of how much water we waste every day while we have a lot of water around here with the Mississippi and lakes, not every place is like that."
Cooper Christopherson on Community, "There were different school groups there and it was really fun getting to work with and know the other students. We didn't have phones or any devices with us all week, and they split us into different work groups and we really had to talk to each other all day. We played spoons every night and got to hang out and now I have friends in Milwaukee and Chicago."
Ava Koopman on Service, "One service group was the home crew, who stayed behind to clean and prepare meals while the other groups were out working.  Another day we removed invasive species from a local park, ripping out honeysuckle and creating a green space for people to use. Another project was building a shed and gardening boxes that will be used in a community garden project. We also insulated a house. We learned that even though it was hot and hard work, service can be fun when you're working with a group for a good cause."
Lily Corcoran on Prayer, "We usually think of prayer as being very serious and maybe that there is only one kind of prayer. One cool thing at Jerusalem Farm is that we prayed in a lot of different ways.  We took a three hour walk in really hot weather and learned about Catholic Social Teachings and then spent time praying and talking in a shady field. We had two masses in the chapel in our week. Every morning and evening we had prayer, where each work group led a prayer based on the four cornerstones."
The high school students gave the experience a 10/10, saying they would go back in a heartbeat. The group from Cotter feels they were changed by the opportunity and look forward to sharing their week with the Cotter Community.