Bringing Back the Big Ticket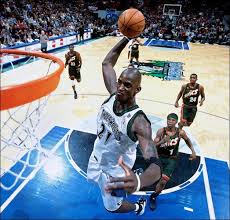 The return of KG is a good thing.
When the Minnesota Timberwolves announced last Tuesday that Kevin Garnett was interested in returning, fans everywhere might of thought that it was just a rumor.  The next day, however, rumor became reality, as the high school prodigy re-signed with the T-wolves on a 1 year $7 million contract.
"But he's washed up," pessimistic fans will say.  The correct answer to that complaint is "Of course he is!"
A 39-year-old veteran is not cream of the crop.  Remember, we did not trade a franchise player for him, nor did we pay a ridiculous amount, we gave the Brooklyn Nets our struggling power forward, Thaddeus Young.
At one time, KG was the franchise player for the Timberwolves, and led the team to a handful of playoff appearances, including a spot in the conference finals.  During that period of 14 seasons, KG was considered the best all-around power forward in the game.  Now, he
receives considerations as the best all-around power forward to ever play.  So why is the return of Kevin Garnett a good thing?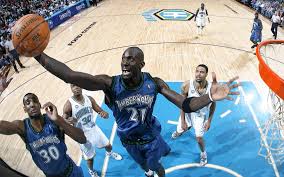 Firstly, he wanted to return before he retired.  We didn't just trade for him; he wanted to be in Minnesota when he finished off his NBA career.  In other words, he wants to make an impact, and give back to our team and complete his career where he started it.  He has also expressed interest in owning the Timberwolves, where Glen Taylor to sell the team.
Secondly, the impact that KG will have on our young players will be extremely beneficial.  Shabazz Muhammad, Anthony Bennett, and even Andrew Wiggins will learn an enormous amount about the power forward position and post-up play from the 19 year vet.  The effects of Garnett's knowledge won't just influence the power forwards, but rather the whole team.  Ricky Rubio will now have a seasoned power forward to pass to.  Nikola Pekovic will have a veteran down low to help with rebounds.  Our shooting guards will have a post player that is excellent at finding open shooters and kicking the ball out.  Most importantly, Garnett is known as a professional who gives his all every game, is the best in the league at talking on defense, and can be a role model in how to approach your job for the young squad he's joining.  It also getst the Wolves out of the money they would owe Young next year under his current contract.
Lastly, the Timberwolves franchise will most likely rake in more revenue.  The probability that seasoned fans will make the pilgrimage to the Target Center in Minneapolis to see a game, is increased now that the best player in our franchise history has returned.Fans, keep your heads up, the Timberwolves know what they are doing.  Our team did not lose anybody amazing, and we gained a familiar face that is used to the Timberwolves, and Flip Saunders offense.
Will he help us win an NBA championship?  Probably not, but will he help us in the long run?  Yes.