Focus- Filled With Comedy, Cons, and Complications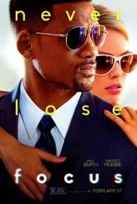 Care to indulge your curious side in front of the big screen?
Focus, a fast-paced flick from John Requa and Glenn Ficarra, may be the right film to fascinate you. Will Smith and Margot Robbie deliver delightfully casual humor and plot twists aplenty.  Despite a few noticeable flaws in logic, Focus manages to pull drama, comedy, con-artists, romance, and action into one hour and forty-five minutes of entertainment.
Naive wannabe conwoman Jess (Robbie) unknowingly (and a bit too coincidentally) bumps into infamous con man Nicky (Smith) at an upscale hotel bar in a poor attempt to con him.  Nicky reveals himself quite humorously with his pants unzipped and a gun to his head and gives Jess a crash course on conning, much to her delight.  The meaning of the title is revealed: the trick to a successful con is diverting your mark's focus.  Charmed and completely desperate, Jess tracks down Nicky and begs him to let her join his band of thieves.  Upon agreeing, he teaches her the most complicated and dangerous last resort in the business, foreshadowing later events.
The two characters are clearly interested in one another, but both try to keep the relationship professional as Nicky teaches an overjoyed Jess the crafts of conning and pick-pocketing.  At their biggest event of the year, after finishing what Jess thought was all of their work, Nicky brings Jess to a Super Bowl-like event.  Bored and sitting in the nicest seats money can buy, the two begin to make silly bets with one another over events unrelated to the game i.e. whether or not the very intoxicated man will be able to stand up for the wave.  Soon, a seemingly innocent man (B.D. Wong) with an inconsistent accent begins to join in, changing the focus to the game and gradually increasing the stakes.  Nicky continues to lose, growing angrier each time, frightening Jess in more ways than one.  Little does she know, Nicky has something up his sleeve.  Still, when the night is over, Jess is left alone in a limousine with nowhere to go and no one to turn to, presumably because Nicky cannot handle his feelings for her.
Three years later, in Buenos Aires, Nicky locks eyes with Jess in the midst of a long con, her canoodling with a man who we believe to be his ally but may be his target.  The plan goes awry from there.  Jess tells Nicky she's in a serious relationship with his accomplice (Rodrigo Santoro), much to his chagrin.  Nicky must try to convince Jess of his feelings for her while following through with his overly complicated long con.  Chaos ensues.
If comedy, cons, complicated romance, and chaos appeal to you, "the game of Focus" may be for you.  Overall, great performances from the cast, especially Will Smith, Margot Robbie, and Adrian Martinez, and constant plot twists made this film wildly entertaining, to say the least.    Focus may not be the best film of all time, but if you're looking for an interesting way to fill two hours, this relatively mild R-rated movie is a great fit.
https://screen.yahoo.com/focus-trailer-162820626.html