Okafor vs Towns: Time for T-Wolves to Choose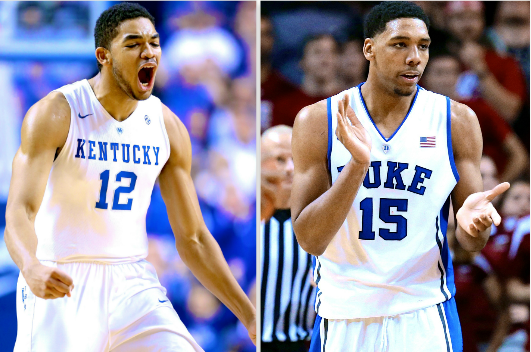 "And that means, that the first draft pick for the 2015 NBA draft will go to the Minnesota Timberwolves," stated the NBA tepresentative.
Now that Glen Taylor and the Minnesota Timberwolves have clinched the #1 overall pick in this year's draft, the chance for a franchise revival is much closer to happening.  The evident void that experts and fans know that the Timberwolves need to fill, is that of a big man that can make the Timberwolves a playoff-contending team.  The two most prominent young prospects are Jahlil Okafor from Duke University, and the Kentucky Wildcats star, Karl-Anthony Towns.  The question is, who do we take?
My opinion, is that the Timberwolves should draft Karl-Anthony Towns.  Towns has proven that he is a versatile player that can develop into a star.  His stats for the Wildcats may not be "outstanding" by all means, but he is a player that will grow and improve in years to come.
Okafor will be a guy that provides his NBA team with 18 points and 10 boards per game.  His biggest downside, is that he is slow, and not a good defender.  His dominant post play is his strong suit though, (but not his 50% mark from the free throw line).  Okafor may have stronger immediate impact on the team because of his ability to score, many see him as being a Tim Duncan type threat on offense.
The biggest upside about Towns, is that he can act as a 4 player, while we still play Nikola Pekovic at the 5.  If the Timberwolves get rid of Pekovic when his contract is up, Towns can then transition into the five spot. Towns should be a dominant rim protecting big man who can make the Wolves a team that can defend at a playoff level.
Even though both players are extremely talented, Karl-Anthony Towns is the player to take.