Elizabeth Warren hits campaign trail with positive message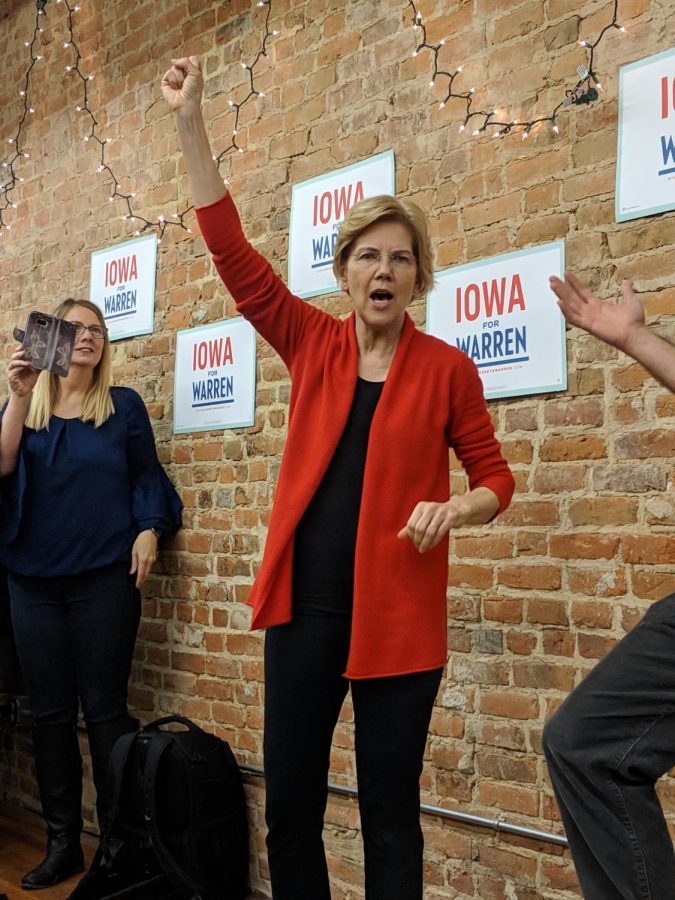 19 months away from the 2020 Presidential election and the election cycle is already starting, and, as usual, the road to Washington runs through Iowa.
Senator Elizabeth Warren  (D-MA) hopes to make significant inroads early on in the 2020 Presidential campaign and a strong showing in Iowa, which holds their caucuses and the first state primary on Feb. 3. 2020, is of paramount importance for serious candidates.
Senator Warren faces off in a tough primary challenge against more than 15 Democrats who have declared their candidacies, and a total of 35 who are flirting with the idea, most notably former Vice President Joe Biden.
Warren and her team held an event at the Lingonberry, an event venue, in Decorah, Iowa, Friday evening for Winnesheik county residents and supporters. My mother asked me to attend the event with her since we like to expose ourselves to different ideas that ultimately shape our beliefs, or change them into something entirely new. We are both Republicans, and we imagined that we would stick out like a sore thumbs amidst the "counterculturalists" and academics from Luther College.
Warren is often cast as a political extremist, divisive and "polarizing" by many of her critics. However, what I have found as a Republican, is that Senator Warren is not who the pundits say she is, in fact,  she is quite the contrary. What I saw was not a coastal elitist, but someone who was eager to hear everyone's voice, share in their hardships, and fix Washington for the betterment of America.
Her speech was inspiring. Senator Warren's humble beginnings in Oklahoma and the story of her three brothers living in a retrofitted garage, and the possible foreclosure of her family farm, resonate with many in middle America. I was originally skeptical how Warren would appeal to Midwestern voters, but I even found myself clapping to more than just a few things the Senator touched upon. My greatest concern was Warren's stance on American capitalism and its integral role in our economy. Warren is a "capitalist to her core" as she said many times, but she believes in "markets that have rules." Success shouldn't be punitive and Warren would likely concur.
Warren's own success story is truly the quintessential American dream. She pursued her college aspirations and when on to become a special education teacher, and from there on to law school becoming a corporate bankruptcy attorney. Warren believes in success and opportunity and investment in education, particularly at the collegiate level, will repay America tenfold. Warren believes these opportunities need to be available to everyone regardless of class, race, and economic status.
Senator Warren is espousing a "common sense" agenda. She acknowledges the science of climate change, the wealth gap (Bernie's 1%), and raising the minimum wage to a "livable wage" one that a "momma and baby can live on."
One wouldn't normally find themselves laughing, or consider themselves entertained while at a political soiree, but I've got to say Warren had her fair share of humorous anecdotes that lightened the mood. I commend Senator Warren for her message of positivity, and not going to the levels of lambasting that are so often seen and heard in today's political sphere.
"
We are at a crucial point in our country where we ought to decide the direction we want to take America. That direction begins with a grassroots effort as seen in this room"
— Sen. Elizabeth Warren
I managed to ask some questions from Senator Warren after the event's conclusion.
I asked if she has any plans on venturing further north to Minnesota which she replied:
"Yes, absolutely! I just don't have a specific date in mind, but my team is working on it."
I also asked how she characterizes herself differently than the other candidates running and why she should be the Democratic nominee.
"We are at a crucial point in our country where we ought to decide the direction we want to take America. That direction begins with a grassroots effort as seen in this room. I don't take PAC money and campaigning for issues Americans want to be resolved, that is why I believe I stand out."
After I finished inundating the Senator with questions, which she was more than happy to oblige, I told her I was a Republican; to which she replied:
"Two out of my three brothers are Republican, and I'm glad you came!"
We exchanged smiles and I told her that she had a great message and that I'm excited to see her campaign evolve into hopefully a successful bid for the nomination.
Warren doesn't take corporate PAC money, nor is she beholden to any special interest groups. Republicans will have to focus on an agenda instead of attacking character, it is my sincere hope that the nastiness of the 2016 election is not repeated. We're better than that America.