Netflix or Hulu?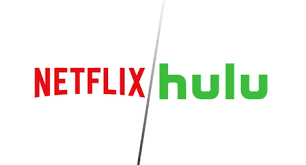 Netflix or Hulu, which one  is better?
Many people today stream tv shows and movies from one of these sites. There are some differences between the two sites.
Hulu has ads on their shows and movies, while Netflix does not. With Hulu you can also see live television and original tv shows and movies. Hulu also offers a plan were certain movies and tv shows are unlocked if you pay for the other membership.
Hulu also has a deal with Spotify. If you have a Spotify premium membership you get Hulu with it as well.  Hulu tends to keep its website updated to recent movies and tv shows.
Netflix produces original shows and movies as well . On Netflix you can also pick a plan by how many people can watch Netflix at once on that subscription. Netflix has a simpler user interface layout to control than Hulu.
Both of these sites have different users so each person can watch under their name so people can watch the same show or movie but under their account.
They both also have a kid section with child friendly movies. They also are both cheaper than paying for a cable bill every month.
They both are pretty reasonable with prices for memberships.  So they are popular choices for watching shows with friends and family. You can also stream both for these from your phone with an app.
From a recent study in 2018 it shows the top 3 platforms. As in the photo from the survey you can see that 147.5 million people stream and use Netflix. While only 55 million people stream and use Hulu. As you can see as of 2018 Netflix is used by more people.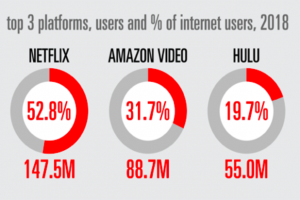 Each site has its pros and cons to it. I prefer Netflix. The ad-free content is a big draw. It also has more shows and TV shows that I am into on it. I also love how simple the layout is for Netflix. Many homes now have both options, but if you are choosing one Netflix is the choice.