Which Winona coffee shop is best for you?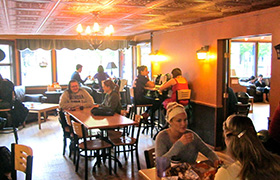 When you live in a small town like Winona, there isn't a whole lot to do with friends or family, so a lot of people like to go to one of the coffee shops around town.
Now, someone who isn't much of a coffee fanatic or is new to Winona might not know which coffee shop to go to. Of course, they should probably try each one for themself to see which is their personal favorite, but they also might want to keep reading to discover which coffee shop in Winona they might want to try first. 
When considering what coffee shop is best for you, there is more than just the taste of the coffee and food that should be taken into account. Some other factors include price, customer service, atmosphere, and location. 
To weigh consumer feedback I took a poll on my instagram story, and asked people to tell me which coffee shop in Winona they liked best. I focused on locally owned shops, eliminating the Starbucks and Caribou chains.
After 24 hours I collected the data.  31 people answered the poll, and out of those 31 people, about 42% said Blooming Grounds, 26% said Mugby Junction, 26% said Acoustic Cafe, and 6% said Blue Heron. One thing to consider when looking at these results is that most of the responses were from people either in high school or college, and it seems that age affects some people's preferences. For example, it seems that adults are more likely to like Blue Heron than teens are. It is important that to consider each shop individually and look at their most important qualitiese. 
The most important factors in choosing a coffee shop are the taste of the food and coffee. Now, with the current quaranting situation, I couldn't go to each place and taste test their menus, so I am working from memory.
Blooming Grounds, which had the most votes in the Instagram poll, has a large menu with lots of options to choose from. Like most coffee shops, they offer many different kinds of coffee, including a daily drip, espresso, cappuccinos, lattes, and many more options. They also have different kinds of tea and smoothies, and a very diverse and delicious menu of food items which you can find more about on their menu online.
Another plus is that Blooming Grounds has two locations downtown at 3rd and Center and a newer location with a drive through window on Huff St. This diverse menu is what makes it loved by so many, but there are also other factors that seem to attract customers. Blooming Grounds hosts several events that customers can enjoy with their coffee, and has many areas where customers can take advantage of a photo op. One thing to consider before going is that if you're planning on ordering multiple things off the menu, be aware that your bill might get pretty expensive. While not the cheapest shop in town, Blooming Grounds is a great place to check out for an authentic coffee shop experience.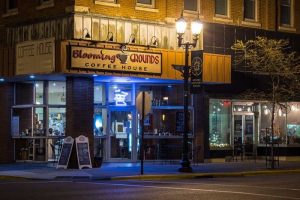 Next up is Mugby Junction, which also has two locations, on Huff across from Winona State and a drive through on Mankato across from Walgreens. Mugby Junction also has many options when it comes to coffee and other beverages, but it does not have as many food option. The coffee at Mugby is very good and tastes rich and authentic.
While they might not have a large food menu, they do offer many different seasonal drinks. One thing at Mugby that I appreciate is the customer service, and many people seem to agree with me. The employees there are kind and welcoming, and also work to get your order ready as quick as possible. Unlike Blooming Grounds, Mugby doesn't host music or as many events, but that could be because it is part of the Lutheran Campus Center, which shares the space. Lastly, Mugby is similar to Blooming Grounds in price and is pretty reasonable. There is a chance, however, that you would spend less money at Mugby than Blooming Grounds because Mugby's main focus is coffee. So, overall, Mugby is a place that is worth trying if you are looking for coffee and unique flavors.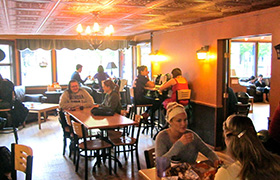 Acoustic Cafe. similar to Blooming Grounds, has a menu that is split more equally between food and beverages. Acoustic has a diverse coffee and beverages menu, but it also has some great food options. A favorite of mine, and many Winonans, are the hot hoagies that Acoustic offers, which are highly recommended.
Acoustic also has a side room which hosts music and special events. Acoustics is decorated with art from local artists hung throughout that customers can buy if they are interested. Acoustic also has great customer service and it's employees try their best to get customers their orders as efficiently as possible. Lastly, Acoustic also seems to have pretty reasonable prices. Acoustic is a great place for lunch or nighttime study sessions.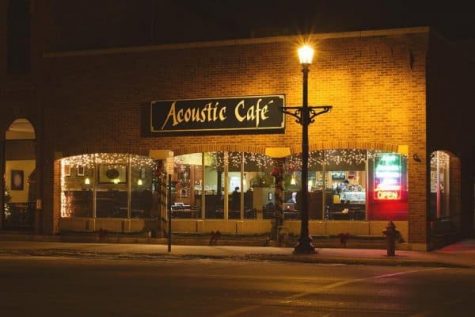 Lastly, we'll look at Blue Heron, Just like Acoustic and Blooming Grounds, Blue Heron has a good mix of both food and beverages on their menus. Their food and coffee both taste great and are of great quality. One thing that is unique to Blue Heron is that it's food menu is not always the same from day to day. For example, they have a lot of fresh baked goods, but most items are only available on certain days. Something really great about Blue Heron is that most of their ingredients are from local farms. Because they use mostly local ingredients, their prices tend to be a bit higher, and they are also more likely to run out of items on their menu.  So, I would suggest going to Blue Heron earlier in the day. Just like Acoustic and Blooming Grounds, Blue Heron seems to host many events for customers to attend. Lastly, the employees at Blue Heron are very kind and helpful, but some of their menu items take some time to prepare, so there's a chance that your order might take longer to get to you, depending on what you order. Overall, Blue Heron is a great place to grab some brunch, but if you do plan on going for more than just coffee, be prepared to spend some time there.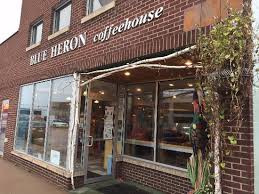 Each coffee shop in Winona is unique and has something great to offer. So hopefully after learning a little bit about each of these places, you've gotten an idea of which one might be perfect for you to try.