French bakery in Breckenridge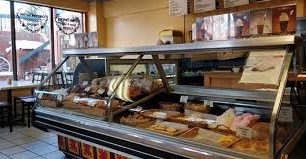 Dateline: Breckenridge, Colorado
La Francaise is a little authentic French bakery in Breckenridge Colorado, a town of about 5,000 in western Colorado that is mostly known for a ski resort with the same name.
La Francaise is located on Main street and it is one of the cutest places I have ever been to. Right when you walk in you get an immediate feeling of calmness and joy.The workers are very nice and welcoming, and the set up is just really cute and simple.
La Francaise has a wide variety of breakfast option. Their specialty is on French pastries and breads. Some of their more popular foods include; Nutella crepe, Apple Croissant, and Peach Croissant. They also have a variety of omelettes and larger breakfasts.
Some of their most popular drinks include; Royal hot chocolate and Special White mocha. The quality and presentation are great and the crowd might be there to ski, hang out or be locals, but I definitely recommend stopping at this Lqa Francaise for a full breakfast or a coffee and pastry.
La Francaise is a wonderful little place and if your ever in Breckenridge, stop by and get something, its worth it.