Production, dedication, and camaraderie.
These three traits were always in evidence during Kelly's time as a Cotter athlete. Bartelson, a three sport star, excelling in volleyball, basketball, and softball,  was inducted into the Cotter Athletic Hall of Fame on Friday, September 29, 2023.
The daughter of Butch and Mary Sue Kukowski, Kelly was the youngest of four, all of whom are Cotter grads, her older siblings are Kendra ('97 )  Brent, ('99), Becky ('03).
"Kelly was the tomboy, always wanting to play sports," Kendra said. "She was born to be an athlete and my parents were her biggest supporters, they never missed a game."
"Kelly was competitive in everything.  All she talked about was sports. I remember playing a  lot of 1 on 1 in the driveway with her," Brent said.
All her time playing sports with her siblings and on youth teams quickly translated to success in her high school career. As an outside hitter in volleyball she returned from illness to lead Cotter to a upset playoff win as a senior.
"Kelly was just a superior athlete," Nick Whaley, longtime Cotter teacher and coach who was Kelly's varsity volleyball coach, said.  "Her return helped spark an upset tournament win for us, which was huge as our section was loaded at that time."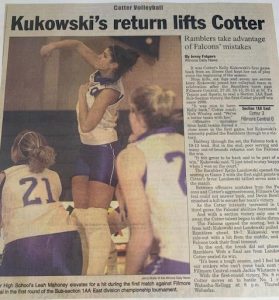 Kelly had an amazing basketball career at Cotter. As a 9th grader she made her first basketball start in a State semi-final game.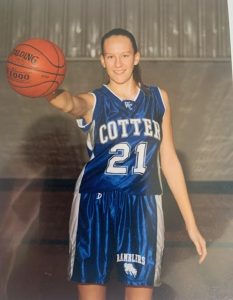 "We lost both of our point guards to injury prior to our semifinal game at State, we're playing on TV at Williams Arena and Kelly is asked to start as a freshman, on the first possession she drained a pull up 3 pointer and as coaches we thought, 'We're going to be alright', " Coach Pat Bowlin said.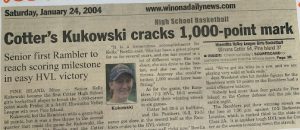 Kelly was named 3-time All-HVL and was Cotter's first female 1,000 point scorer, and a 2-time team MVP.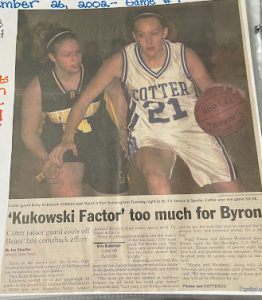 Kelly's older sister Becky (class of 2003) was a teammate and witness to her sister's exploits.
"Kelly and I played volleyball and basketball together and we were a year apart. It was always fun to play with my little sister, even though she was much better than me. It was awesome when she scored her 1,000th point," Becky said.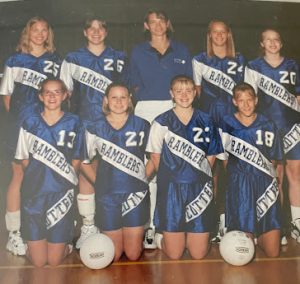 She was also All-HVL in softball 3 times, where she played 6 years on the varsity and played in over 100 games. She was the shortstop on Cotter's 2o03 State championship team and had 1.000 fielding percentage as a senior.
"Kelly was a great shortstop and a clutch hitter. Her senior years she committed zero errors. In my 39 years of coaching softball I have never coached a shortstop who can make that claim, and I have coached a lot of great shortstops," Coach Bowlin said.
Bowlin also credits a late inning pick off play from catcher to the shortstop covering 3rd base for being the spark that sealed a 5-4 victory over Pipestone in the State Championship game. "It's a difficult play to pull off, but Jess (Weisbrod) and Kelly did it, and we have a photo to prove it was the right call," he said.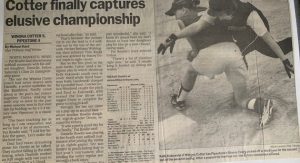 Kelly's teammates valued her talent, but also her friendship and sense of fun.
"I played left field and pretended to back up Kelly at shortstop. I say pretend because she stopped everything and made my job easy. She was SOLID at shortstop and I loved being in the outfield behind her and watching her confidence on every play," Lindsay (Maus) Dubic, a classmate and teammate of Kelly's in both basketball and softball. "There was nothing better than winning a State championship with your best friends."
"Kelly led by example, she picked people up at just the right times, she was always encouraging to her teammates including the younger girls. On the basketball court, she was the one you wanted the ball in her hands in a tight game. On the softball field, you hoped the ball was hit to her and were confident in her as she stepped into the batter's box. She was cool, calm, and collected. I always admired that about her.  She was locked in for every game, yet still knew when to keep it light and make us smile and laugh," Dubic said. "Not only is Kelly a one of a kind athlete, she is a one of a kind friend. She truly, truly cares so much about all of her friends. She has a heart of gold, always willing to listen and help and just like her athletic career, she puts her all into her friendships. A true gem, a secret comedian, I have been lucky to call her my friend  in high school and ever since.
Kelly was also named, along with Jessica Weisbrod, the 2004 Paul Gardner Memorial Female Athlete of the Year at Cotter.
"Although my family are my biggest supporters, I wouldn't have been able to achieve anything without my teammates and coaches. From volleyball to basketball to softball, there were countless memories made on and off the court. The hard workouts at practices, the early hours, the late nights, the cold weather outdoors to the hot days at the state softball tournaments. We did it together… Together we were committed, together we showed self-discipline, together we had teamwork. I would not have given any of those teammates up. We've made special memories that I will hold on to forever," Kelly said.
Kelly also credited her coach, Pat Bowlin. "Mr. Bowlin taught me so much about the game, pushed me out of my comfort zone and challenged me. He helped me develop my skills, and taught me patience, resilience, and how to be a better teammate. I continue to talk to young female athletes in the Cotter community and tell them to stick with sports, especially basketball and softball. I tell them if Mr. Bowlin is still around when they are in high school, they will want him as a coach."
Kelly has worked at Gundersen Health as a Medical Laboratory Technician (MLT) since 2021 Her husband Brad works as a paramedic and firefighter with the Winona Fire Department (where he will soon be named captain) and they have three sons, Drew, 12, Owen, 9, and Will, 5, who are all active in basketball and baseball and keeping their parents busy. 
Kelly still plays slow-pitch softball and volleyball and coaches basketball at the YMCA and Goodview Sandlot baseball, where she serves on the board of directors. 
"Kelly's impact on Cotter athletics has been tremendous, but her impact on her family and friends is even more profound, The Cotter Hall of Fame is better because Kelly is in it," Cotter Bowlin said.