Cotter soccer has been on a roll.  
The girls team recently finished 3rd in State and has been a dominant force in the area. The boys team finished 17-1 last season, losing only in the section final and are off to a blazing start this year. 
Cotter's soccer success is certainly a credit to the current players and coaches, but can also be traced back to the two people whose visions were most responsible for bringing the program to life – former Cotter President James Devine and Gabe Manrique.
Gabe, a Winona State University economics professor, Cotter parent, coach and soccer enthusiast,  recently passed away after a long battle with Multiple Systems Atrophy.
According to his obituary, "One of Gabriel's passions was soccer and he played a major role in introducing youth soccer to the Winona area. During his many years of involvement with the YMCA and the Winona Youth Soccer Association (WYSA), he was part of state championship teams and helped organize the yearly multi-state soccer tournament in Winona."
"
The birth of Cotter soccer is directly attributable to these two men who had a vision and then the work ethic to see it through
— Pat Bowlin
Pat Bowlin, Cotter's longtime athletic director and currently St. Luke's Elementary Principal, remembers the Cotter program's beginnings: 
"There were very few soccer teams in southeast Minnesota when Jim Devine and Gabe Manrique started the first boys team at the JV level. Jim and Gabe were great partners and shared being immigrants to the United States with great passion for soccer. Thanks to their leadership a boys varsity team followed shortly afterward along with the start of the girls program. After Jim's death in 1995, Gabe carried on by serving as the boys head coach, then the girls head coach. Gabe's teams were always well prepared and his enthusiasm for soccer brought a rapid increase in numbers. After his retirement from coaching, Gabe continued to serve Cotter by assigning officials for our games and officiating some of them himself. The birth of Cotter soccer is directly attributable to these two men who had a vision and then the work ethic to see it through"
Another early coach in the program was another former Cotter President, Craig Junker. "Unfortunately,after starting the program with Gabe and playing a JV schedule in 1994, Jim left Cotter before the next season to focus on his health. The next year, I was hired to co-coach the boys' soccer program with Gabe, Cotter's inaugural varsity season."  
"The team had wonderful kids, the kind of players that made up for a lack of experience with heart and hustle.  It was clear that most of our competitors had deeper teams, but we weren't going to concede anything.  Tim Prusha was the player with the most skills and a high desire to build the Cotter name. Gabe and I relied on him and guys like Heath Luehman, our keeper, to set the tone."     
"As a young coach, I didn't want any team to outwork the Ramblers, so I told Gabe that  we should hold three-a-day practices. When I shared this Gabe just looked at me and smiled and said, "Less may be more."  I counter argued, "No, more is more."  After a week or so later, when our players' bodies hurt all over and they could barely move, I had to concede that Gabe was right."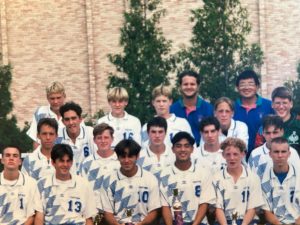 "When I look back to those early years with Gabe, it was so clear that he loved coaching his son, Patrick. He loved teaching high schoolers the game of soccer, many of whom he had known for years, and he loved Cotter.  To Gabe, coaching was not just about teaching the technical or tactical side of the game.  He saw the big picture and utilized soccer to challenge our players to develop into young adults of distinction. Soccer was a tool for personal development. Gabe also knew that our team represented Cotter, so it was important to model what it looked like to lose with dignity and win with class," Junker said.
Coach Manrique also left a lasting impression on his players.
Matt Biesanz, Cotter class of 1997, who has the distinction of scoring Cotter's first goal and is a parent of current Cotter players, had a deep connection with Coach Manrique.
"Gabe was easily my favorite childhood coach growing up. I was fortunate to play soccer for Gabe at the YMCA, WYSA, and Cotter. Gabe was a great coach, father and husband. Gabe and his family were always inviting and friendly with everyone. I enjoyed and miss our time spent driving together in the family van, at school events, and at soccer tourneys and games. His encouragement, advice, and the life lessons that he shared with me and all of his players have been invaluable. He was the only coach that didn't give up on me despite my sometimes being a poor sport. For that I have always held him in a very high regard."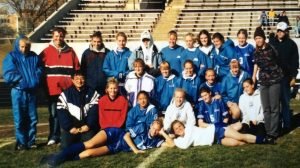 Marijka BG Muras, Class of '98, an outstanding player on early Cotter's teams also respected Gabe's knowledge and approach.
"Gabriel was the coach who helped me find the confidence to realize I could play on a boys team and hold my own. But he was also a coach who could see that girls needed their own spaces to excel and lift each other up and he made it a priority to create that. He was mild-mannered and relaxed in his coaching style but so passionate during games.  Gabe was the sort of coach who I always wanted to impress and I loved when he watched our games, it elevated my play every time. He had tactical knowledge of the game that was unparalleled in Winona at that time; he demanded hard work from his players but was also warm and funny." Marijka said.
Gabe and Cecilia's children, Cotter grads Patrick ('97) and Michelle ('03), who were key players on their Rambler squads, grew up with an affinity for the sport.
"Soccer  was just always part of our family life, from being out on the field, to watching it on TV, to talking about it at the dinner table.  For me, soccer was always just there, integrated into our daily life," Michelle said.
"I remember watching dad play soccer in the adult league of Quincy, Illinois when he was a young college professor at Quincy College. He was also my coach already when I started at age 5 and I still remember our final game of the season on a muddy soccer field and we loved playing that game!," Patrick added.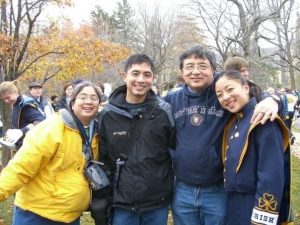 Both Patrick and Michelle also had the special experience of being  coached by their father.
"I always knew what mood dad was in before anyone else on the team. I knew we could have a little fun at practice, but I also knew when he was in a bad mood and we were going to be doing A LOT of running that day.  I  loved the strategy sessions before and after games, on car rides or during meals, where we'd talk about how to maximize players' potential or how to overcome a team that often eluded us like Lourdes or the Black Diamonds," Michelle said.
"Dad's coaching style was firm, but fair. Many former players still mention how he was their most memorable coach. He gave folks the space to be creative in the game, but he also had the ability to make you want to better for the benefit of your team. You just wanted to be that better version and not let him down," Patrick said.
"
He believed that soccer is a language, that it represents opportunities for self-expression, conversation, and community.  He believed that soccer is a classroom, that it is a place to learn, make mistakes, and grow.
— Patrick and Michelle Manrique
Michelle and Patrick also cherish their father's philosophical approach to soccer and its benefits.
"Dad called soccer "the beautiful game." But he also believed it to be much more than "just a game."  He believed that soccer is a language, that it represents opportunities for self-expression, conversation, and community.  He believed that soccer is a classroom, that it is a place to learn, make mistakes, and grow.  He believed that soccer is a vehicle and a destination, that it provides opportunities to transport you to far away places but where you can find a place to call home.  And he believed that soccer is about the people, the friends who become like family as you practice, play, watch, and referee together season after season."
President Junker also saw that Gabe coached soccer to help share his joy of the game with others and have it be a positive force in their lives.
"Gabe held high standards for himself and the team. It was my great pleasure to coach with him and learn from him.  We had so much fun together and with our players.  I can see him in my mind's eye right now, smiling and offering encouragement to the team – making us all better.  That's Gabe: a kind and intelligent person, a loving dad and husband, and a man that contributed to people's lives.  God bless, Gabe and the Manriques."