Pilgrimage to Indy: Cotter group goes to NCYC
Lucas Oil stadium is not just for U2 concerts and Super Bowls, every other year it hosts thousands of young Catholic students from around the country, including Cotter.
The National Catholic Youth Conference(NCYC) was held November 15-18th, and 11 Cotter students attended the event. NCYC is an event held every other year in Indianapolis, Indiana, to encourage youths and get them excited about their faith lives. Every event has a special theme, and this year's theme was "Called. Llamados," challenging youths to accept their call to listen, serve, and replicate the lives of the saints.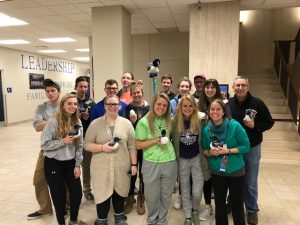 Mrs. Corcoran, one of Cotter's religion teachers, led Cotter's trip to NCYC. She believes the conference has a very positive effect on teens, and that teens have a lot to gain by attending the event.
The Cotter group included Ella Reilly, Makenna Kohner-Thesing, Paige Peplinski, Riley McGill, Annie Galke, James Galke, Garet Grant, Tyler Nachtigal, Miriam Ellis, Josh Wobig, Ceili DeMarais, Tony Coudron,  and was chaperoned by Mrs. Corcoran ,Tom DeMarais and Chad Coudron.
"Everyone gains something different, but overall, there is an amazing feeling being in a stadium with 25,000 other young people just like you. You're not alone and everyone has similar beliefs," Corcoran said.
In a day and age where teens may feel uncomfortable or find it difficult to express their faith, NCYC gives them a place where they do not have to feel uncomfortable in expressing their beliefs regarding faith.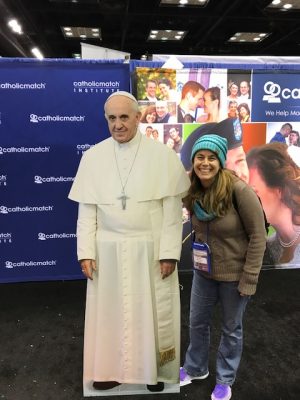 Riley McGill, a senior who attended the trip, felt her feeling of isolation in her faith go away through the experience.
"From this experience I gained the knowledge of not being alone in my faith. After spending a weekend with 25,000 other people who feel the same way as you about God it changes your perspective on life and shows that there are so many others out here like you," McGill said.
Garet Grant, a senior who also attended the conference, said that "Something I gained is a better relationship with God."
Clearly, NCYC has made a positive impact on teens who attended it, but the positive effects are not limited to only teens.
Mrs. Corcoran said that she also has grown in her faith through NCYC. "I always feel inspired to be more courageous in my faith," she said.
Additionally, she shared the sentiment that many teens expressed in finding a difficulty to express her faith in public, but this event gave her the courage to do so.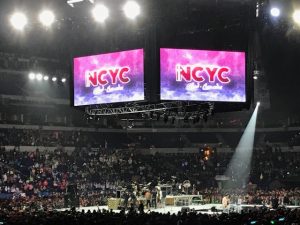 The National Catholic Youth Conference's goal is to give teens and adults the confidence to feel comfortable in where they are at in their faith journey, and also to be able to express their faith. NCYC succeeded in this goal with the Cotter community, and the larger community can learn a lot from the experiences and advice from those who attended.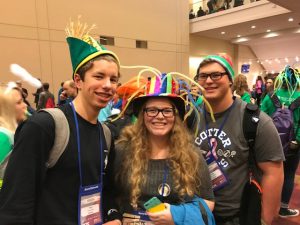 Leave a Comment