Gilbertson survives trial by fire at quarterback and point guard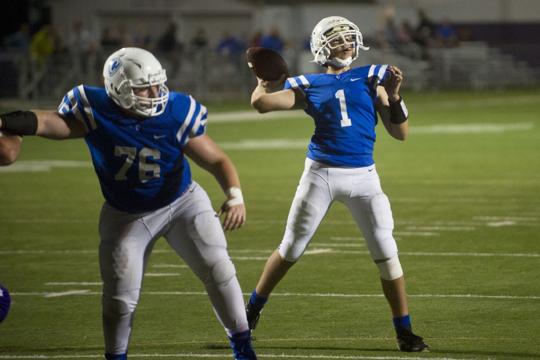 Tate Gilbertson became Cotter's trigger man in two sports, that was not the plan.  The freshman ended up as starting quarterback and point guard on the varsity teams.  It was a lot of pressure, but, according to his coaches and the game film, he handled it well.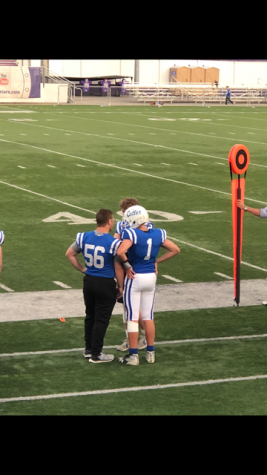 In football the starting quarterback, sophomore Charlie Reilly, blew out his ACL in the first series of the year.  Gilbertson, who had planned on holding a clipboard and backing up Reilly, was called into action.  He played every snap the rest of the season.
Then came the basketball season.  The Ramblers varsity was already thin, due to  small numbers of upperclassmen, in early January, starting point guard, sophomore Cale Beckman, shattered his arm in a fall during a game.
Once again Gilbertson was called into duty.  His first varsity basketball action came on January 15,  his golden birthday.
Gilbertson once again rose to the challenge, logging starters minutes for the rest of the season.
If he was rattled by the pressure of competing at the varsity level it didn't show.
"Nerves come and go, but it is fun to hang out with the older guys." said Tate, who enjoys the presence of the upperclassmen.
He feels accepted by the older player, despite the joking around that comes with the territory. He feels that no matter the circumstances it is still a blast to be in the presence of his teammates.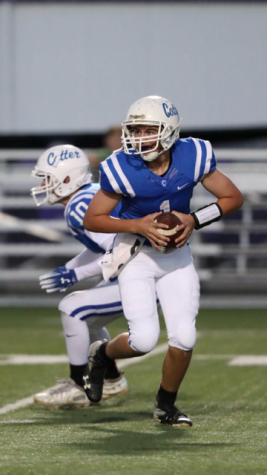 Basketball and football are his favorite sports, he hopes to be able to keep working at them and have the teams become a lot better.
"I'm proud of him, yet scared for him too," his mother, Janann Gilbertson said. Janann is known for her emotion in the game always yelling "be careful with him he's only a freshman!" Towards the other teams.
"I have a fear of him getting hurt every game in football, but I love getting to watch him play with his older brother."
"He was forced into a difficult position and handled it well," his teammate Cale Beckman said.
"I was nervous for him, but eventually grew into confidence." Moving forward Beckman says he expects Gilbertson to become a better player and to grow as a leader.
"Tate is a hard working, motivated and coachable young athlete," his basketball coach Dan Messman said. He is proud of the way the way Tate developed over the year and expects great things from Tate in the future.
"He handled the added responsibility with tremendous maturity, " added head football coach and athletic director, Seth Haun.
"
He handled the added responsibility with tremendous maturity"
— Seth Haun
"He will constantly have high expectations, through practice, hard work, and continuing to improve his leadership he has a chance to meet those expectations," Haun said.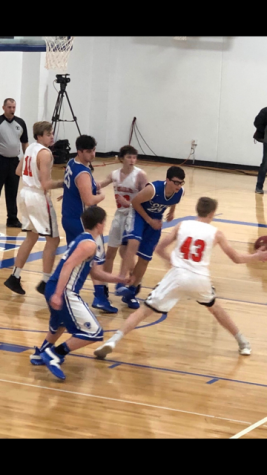 Gilbertson is clearly a key piece of Cotter's future sports teams, as both basketball and football are working to improve their records.  Gilberston says he hopes to keep improving in each sport and improve his leadership and skills, and, evetually, dunk.