How much is too much?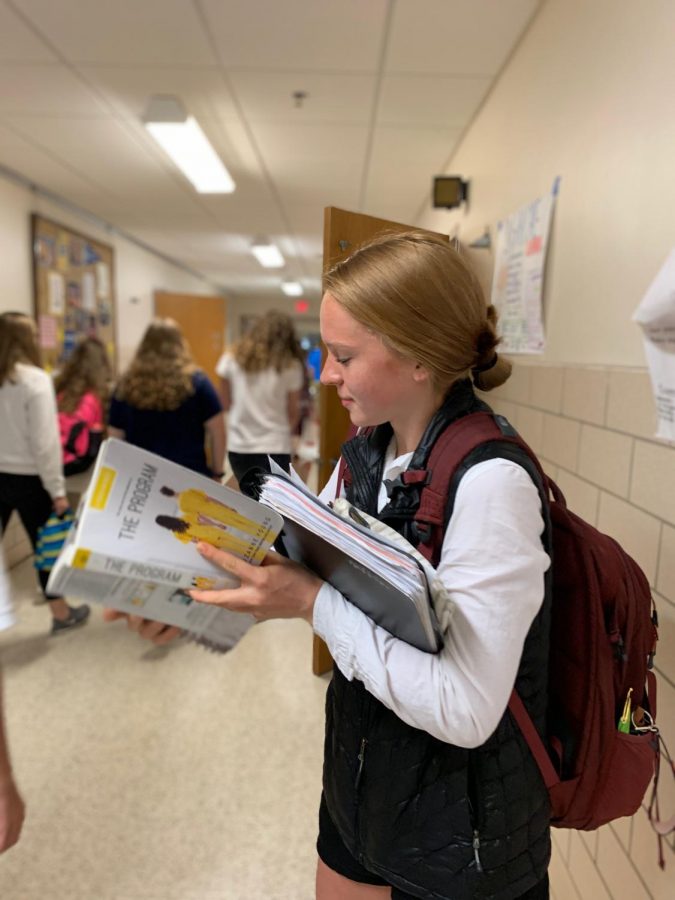 In a Student Life America survey, over 50% of students reported being stressed.
Author and senior lecturer at Stanford Graduate school, Denis Pope worked with the Stanford Challenge Success Project to write a book called, Overloaded and Underprepared.
The book breaks down how "Our fast-paced, high-pressure culture is working against kids being able to develop in a happy, healthy way" by outlining a three step process called PDF to help kids, teenagers, and families to better develop and cope with this type of culture.
P is for playtime, D is for downtime, and F is for family time.
Cotter sophomore Maren Stewart, participates in school track, school soccer, club soccer, student council, yearbook, show choir, dance, is in the process of getting confirmed, and works at Ecker's Apple Orchard. On top of that, she's in the process of moving right now, while juggling homework and finals week.
The P in PDF stands for playtime in the book Overloaded and Underprepared, Pope says that high school students shouldn't spend more than 15-20 hours a week on extracurricular activities.
Stewart estimated that soccer alone takes up 10-12 hours a week, she has a student council meeting once every other week, track practice after school, show choir practices on Monday and Wednesday that last anywhere from 50-90 minutes, confirmation meetings once a month, and work on the weekends in the fall. This adds up to almost 20 hours of extracurricular activities per week. 
The second part of the three part system is downtime, students should have enforced bedtimes and time to unwind at home. Studies have shown that high school students need exactly 9 1/4 hours of sleep per night. The amount of high school students that meet this sleep need is small.
"Oh man, In the past month or so [I've gone to sleep] at an average of 1:00-1:30 AM. Last night I didn't get home until 12:45 and went to bed at about 1:45," Stewart said.
High school student's lack of sleep does not go unnoticed by teachers, "I've had to wake students up many times before, you can tell when students are tired because they have a grogginess to them and don't pay attention to the lesson," Mr. McGlaun said.
Coaches also notice, "When athletes don't get enough sleep they can't recover as fast," cross-country and track coach, Ryan Ping said.
The third part of PDF is family time, "a significant protective factor that results in positive mental health and fewer at-risk behavior for young people."
"It's been hard to keep a good relationship with my parents lately because we're all always constantly on the go," Stewart said. However, "Family is always a huge priority for me . . . I'm very thankful for my family and friends because when I do feel overwhelmed they help me cope."
"
It's been hard to keep a good relationship with my parents lately because we're all always constantly on the go"
— Maren Stewart
Schools play a big role in the PDF process because of the homework load assigned and the staff and teacher's ability to help stressed out students.
One benefit of smaller schools is the opportunity to participate in lots of activities, but this can also encourage over-scheduling, as many groups may be competing for commitments from a relatively small pool of students.
Stressed out students can also put an additional load on teacher's plates.
"I'm not very good at handling emotions of my students," the Spanish teacher at Cotter, Mrs. Barrios said.
To help high school students develop into healthy, happy individuals schools should meet the students where they're at, parents should allow downtime for their kids, and students should not overschedule themselves.