Jimmy Holmes keeps the blues cooking
Jimmy Holmes is all about the blues.
The MWMF music guide described him as follows: "Jimmy "Duck" Holmes has lived a life steeped in the blues.  Today he is the last living practitioner of  the celebrated style of Bentonia blues made famous by Skip James and Jack Owens.  In addition, Holmes operates the Blue Front Cafe, the oldest juke joint left in Mississippi."
Holmes has become friends with local blues guitarist Mike Munson, who, along with his wife Diane, have visited Bentonia and the Blue Front several times.
Munson and a harmonica player accompanied Holmes at his packed show at the Eagles Club in Winona on Saturday, May 4.
This was the second time Holmes had performed in Winona, as he played at the Winona Arts Center several years ago.
Bentonia is town of about 500 that is in Yazoo County, MS, and, according to Holmes, is halfway between New Orleans and Memphis.
"I can go out my front door on Highway 49 and take a right and go to New Orleans or take a left and go Memphis," Holmes said.
Holmes said that the original Bentonia bluesman was an unrecorded artist name Henry Stuckey, who passed the style onto James and Owens, who in turn showed Holmes the style.
The Mississippi Blues Commission, which promotes blues music and tourism in Mississippi, has put historical markers outside the Blue Front for James and Owens and also for the Blue Front itself.
For more on Munson, Holmes, and the Blue Front's history check the links below:
https://bluefrontrecords.myshopify.com/
http://msbluestrail.org/blues-trail-markers/blue-front-cafe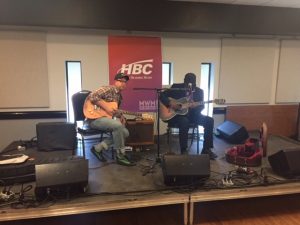 Leave a Comment