Bringing the Funk to Cotter Jazz Fest
The St Cecilia Theater was swinging all weekend for the Cotter Jazz Fest and Hurry Back Productions events on  April 15 & 16.
Cotter's three jazz bands (Jazz 1, Jazz 2, and the junior high jazz band) welcomed bands from five other schools to campus for a clinic and performance.  The other schools attending were Winona High, Kasson-Mantorville, La Crosse Central, JWP (Janesville-Waldorf-Pemberton), and Heritage E-STEM magnet school of St. Paul.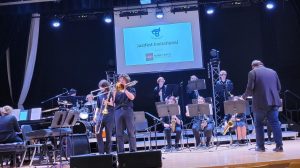 Prior to performing, the Cotter bands and visiting schools each had a session with one of the guest clinicians as well as St. Paul Peterson, who was the special guest and lead instructor for the festival. Guest clinicians included Dr. Jeff Erickson of the University of Wisconsin-La Crosse, Dr. Rich McDonald, former jazz instructor at Winona State University, and Dr. Aaron Lohmeyer, also a professor at WSU.
St. Paul Peterson led a master class based on the format of his web series Funk fridays (here's the Sign O' the Times episode) where he invites world class musicians to a 1 minute jam session based on a hit song.  Cotter senior trumpeter Adam Martin soloed during this session.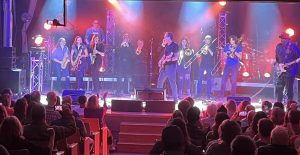 In addition to the clinic and Jazz Fest, all the student musicians were offered complimentary tickets to the St. Paul and Minneapolis Funk All-Stars show on Saturday Night.  The band called up members of the Cotter jazz band to join in one song, and Adam Martin was again given a solo during this song.  The students and local audience were treated to a great high energy show.
On Sunday, the Cotter bands hosted and in house concert that Paul Peterson participated in.
"It was the first year we used this format so there was a challenge in terms of knowing what all the outside groups were looking for, but we have had nothing but positive feedback on the event.  Everybody loved what Paul Peterson brought in terms of energy and engagement and he's been talking up Cotter and Hurry Back Productions since returning to the Twin Cities, so I think it worked out well for everyone, " Cotter band director Andy Meurer said.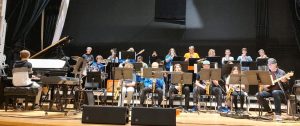 "We owe a huge thank you to Mike Slaggie and Hurry Back Productions, who generously funded the event and provided the tickets to the students to attend the concert.  It was a very memorable and educational weekend for all the students," Meurer said.
Leave a Comment