Active Minds taking hold at Cotter
May will mark the one-year anniversary of Active Minds club at Cotter.
Active Minds is a national organization centered around promoting mental health. Cotter is a sub-branch of this organization and was started by Lexi Licheng and Hart Kerr in their sophomore year in the spring semester of 2019.
Currently, the group is led by Licheng with the help of Mrs. Elizabeth Stevenson, Cotter social studies teacher.
As of recently, Active Minds has made a name for itself as a club at Cotter by actively putting itself out there.
In 2003, Active Minds, which was started by Alison Malmon in her junior year at the University of Pennsylvania and was originally named Open Minds, became a national incorporated organization in Washington, DC.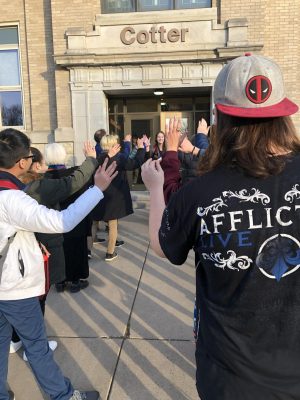 Malmon's older brother Brian, who was diagnosed with schizoaffective disorder and depression, took his life in 2000. Tragically, his depression was left unchecked and it "had created a space for him where he felt like he was the only one, that all of it was his fault," Malmon said.
This event shook Alison's world and it got her thinking about other millions of young individuals who stifle their depression and leave it unchecked and often becoming worse, driving some over the edge.
At her university, Alison was unable to find a group for teens to discuss mental health and so she took matters into her own hands and opened the floor for this topic; Malmon hoped to prevent tragedies such as her brother's in the future. In just two years since its establishment on campus, this group gained great popularity.
Later, another chapter of the group was started at Georgetown University by Alison's college friend Kate Hard. Since its start-up, Active Minds has touched the lives of thousands of individuals, primarily aged 14-25. According to statistics found on the Active Minds website, approximately 7.3 million individuals benefit from Active Minds and there are around 700 school campuses that Active Minds is present in. 
As part of Mrs. Mary Hansel Parlin's spring final for her morality and social justice class, students were required to create and implement a "Big Idea" project. The goal of this assignment was to create an opportunity for students to get out of the classroom and get involved with others and the community to bring about change.
For their topic, Lexi and Hart chose mental health and wanted to promote it in their own community.
"I wanted to promote mental health, there is already a national organization and I wanted to bring it to Cotter. Our goal is the same: we want to raise awareness about mental health,"  Licheng said.

The current members of Cotter's Active Minds are juniors and seniors. Elizabeth Stevenson is the mediator and helper in the organization for the group. Each month, Active Minds targets one idea and works throughout that month to promote it.
"This is usually done with one student presenting a topic each month and then trying to advocate it around campus," Stevenson said.
"
I wanted to promote mental health, there is already a national organization and I wanted to bring it to Cotter. Our goal is the same: we want to raise awareness about mental health"
— Lexi Licheng
In September and October, the topic was suicide prevention; November was about bullying. In addition to this, Active Minds hosts high-five Friday every week to raise school spirit and "bring happiness," Licheng said.
Active Minds also has an Instagram account (@cotteractivemind) to promote the group; there are also buttons available for Active Minds. In the bathrooms at Cotter, there are posters that promote mental health and provide resources (hotlines, sites, etc.) to encourage others to seek further aid. During finals, Lexi hosted a small pep talk for the new freshmen to help them de-stress in hopes to bring younger students in and has other activities planned to achieve this. 
In the future, Licheng hopes that Active Minds will grow, she hopes to bring more sophomores and freshmen in and wishes to see Active Minds continue when she graduates. Most of the younger classmen are unaware Active Minds even exists.
"We didn't get the chance to advertise at the beginning of the year activities assembly because of crunch time and uncertainty at the start of the year, but I think the momentum in the group is high at the moment. I think that more presence and discussion with freshman and sophomores is needed," Stevenson said.