Speech team sends 9 to State
Cotter's speech team had nine members qualify for the State meet at the Sectional meet at Wabasha-Kellogg High School on Saturday, April 15th.
The qualifiers were as follows: junior Savanna Loken- dramatic interpretation, sophomore Maddie Lemmer- extemporaneous speaking. senior Olivia Moore- prose, freshman Kai Taylor- prose, 8th grader Carter Knuesel- informative, sophomore Jackson Loomis- humorous interpretation, sophomore Brooke Rodgers- creative expression, freshman Erica Beckman- original oratory, and Mila Goodwin- poetry.
Cotter finished as the section runners-up with Cannon Falls capturing the top spot. Cotter's head coach is Amy French, assisted by Bob French and Cotter teachers Emily Mork, Mike O'Brien, and Teresa Schaefer.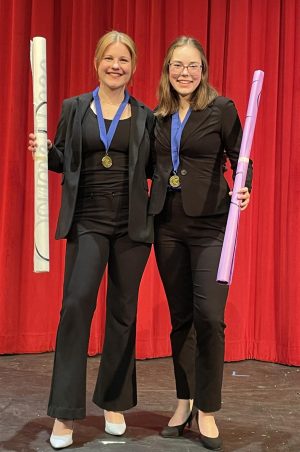 Two Ramblers were category champions at sections: Oliva Moore in prose and Erica Beckman in original oratory. Olivia also qualified for the All-State Speech team.  Olivia and Maddie have each qualified for State three times, and this is both Savanna's and Brooke's second time qualifying.
"It's been a great season filled with many great moments.  I also help coach some of the younger members of the team and it was so cool to see someone who I have been working with since they were in 7th grade get on the section stage.  It's weird being a senior and knowing that State will be my last event.  I finished 3rd at State last year, so my goal is to finish 1st, but I am just planning to do my best and make the most of the experience," senior speech captain Olivia Moore said.
The State meet will be held at Eastview High School in Apple Valley on Saturday, April 29.
Leave a Comment