Cotter Band working through distance learning challenges
The Cotter band, like the rest of the world,  has been challenged with the COVID-19 pandemic, which has made it almost impossible to perform. Nonetheless, the show must go on and the band is staying afloat by practicing at home.
"We have found a lot of different approaches to make pandemic band work well for us. In the high school, we have  e-music theory Monday, where we learn new music theory content each week to help build fundamental skills for when we return to the classroom, and then we do playing Thursdays where we play along with a program called Smartmusic that allows kids to play with a "boxed band," Mr. Andy Meurer, Cotter band director said.
"It is a great program that allows the kids to feel like they aren't playing all alone. Before we went full distance, we also had a freshman band and a 10-12 band that met once a week before school on Wednesdays. These were capped at 25 kids, and we were distanced, masked, and bell covered to allow us to have some real rehearsals,"  Meurer adde
The  Band is still practicing and doing lessons online despite the pandemic. This has been the same story for many other classes and activities,  such as art classes, PE, sports, and clubs.
"
The part of band I miss the most is playing with other people. Band is very much a group activity, and it just doesn't have the same impact when there isn't the opportunity to play with others"
— Aubrey Williams
As many who have been on virtual meetings would expect, with the latency, lag, and less than ideal audio quality with Zoom, and many other platforms for online learning, it can be hard to practice. For percussionists, who use instruments too big to bring home it is also difficult to fine tune your skills. So this begs the question, what does Cotter do to practice?
"Right now we are working over Zoom. We have our zooms with 80-90 kids on all at once, which is crazy in itself. At the HS level after we talk through the playing assignments the kids can go on their own and practice and record, but the junior high needs a little more guidance than that. At JH level, we break them into sections in breakout rooms, and then my student teacher and I float through the rooms and take questions, guide them on pieces, and ask for playing excerpts. It's certainly different, but it has been working so far,"  Mr Meurer said.
From a student's standpoint all this extra at-home band practice can get stressful, but the biggest thing missed is practice with friends and peers and the opportunity to showcase what you have worked on so hard.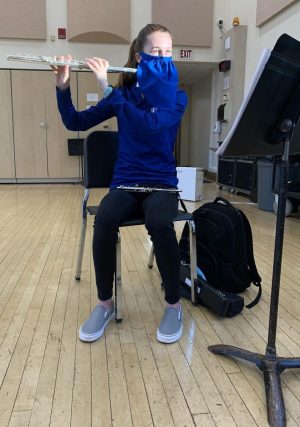 "For me, it's not stressful, but different. You have to find times when to practice in your house, and can't rely on any musicians around you. It's a bit more individualized, which loses some of the appeal of being in a band, but we still are able to make music," Hannah Graff, a senior, said.
"The part of band I miss the most is playing with other people. Band is very much a group activity, and it just doesn't have the same impact when there isn't the opportunity to play with others. I think the transition to online band was pretty smooth, but I'm definitely ready to get back to being in the band room," senior Aubrey Williams said.
It is clear that the part most missed is being in the band room playing as a group, which brings a completely different element than practicing alone or in a virtual group from home.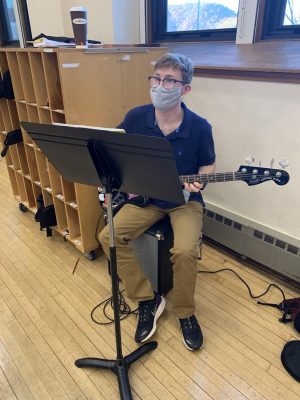 The question remains will these students be able to perform the music they have learned?
"In a way, virtual concerts are a crazy amount of work both on the kids and on the director. The kids need to feel so confident in the music that they could play it all by themselves at home with good intonation, style, tempo, dynamics, etc- all without a conductor or fellow bandmates. Once they do this well enough, the director then has to spend time taking each individual video, adjusting volumes and starting point, and then aligning them into the virtual videos that you see on the internet. It's a crazy process, but we are trying it in class right now. I've found a website that helps me organize my end to make it a little more accessible, so we will see what comes from that,"Mr. Meurer said.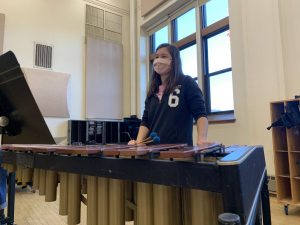 Cotter Band has been practicing and honing their skills for a chance to be able to put something together.  There is hope that there will be some opportunity for in person performance this Spring, so until then the band plays on from home.