"Mamma Mia" draws strong crowds and rave reviews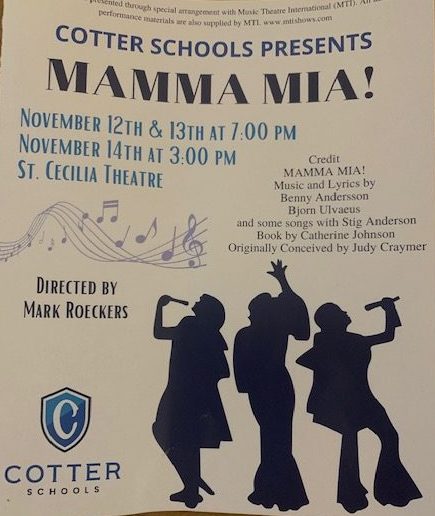 Set in the Greek islands and featuring an international cast, "Mamma Mia!" was a hit with the large audiences that saw the show at Cotter.
On November 12, 13, and 14, Cotter put on an amazing performance of  "Mamma Mia!", the jukebox musical based around the songs of ABBA>
Director Mark Roeckers worked with choreographer Claire Penning, as they spent over a month rehearsing and developing this show. Over 30 students were involved in the production. Surprisingly, not only Americans, but international students as well, two of whom were cast in lead roles.
The entire set of Mamma Mia was in Greek taverna in the white and aqua blue seen on many Greek islands. The story of Sophie trying to find her father is well-known, as many people saw the original movie from 2008.
Some songs were added and also new scenes, such as the " Nightmare scene" where Sophie dreamed about her future. However, the central plot remained the same.
Sophie was played by Ema Stankova, a senior from the Czech republic, and her fiance was Sky – Pablo Costa who is from Spain. Sophie's mother,  Donna, was played by Alison French, James Greshik played Sam Carmichael, and Cecilia Galke and Madeline McConville played the roles of Donna's old bandmates, the Dynamos.
The show was highlighted by special effects like purple, pink, and blue lights, fog, and the special spark in people's eyes was existing mainly because of the incredible music in the background. The live music also added to the experience with Ty Grebin playing drums, and Tara Welch played the lead piano with Sandra Hohnstadt filling in extra piano parts.
The costumes looked perfect, almost as if we just witnessed the movie in real life. Sparkly blue, purple, and pink trio of Donna and her friends surprised everyone as soon as they saw them come on to the stage.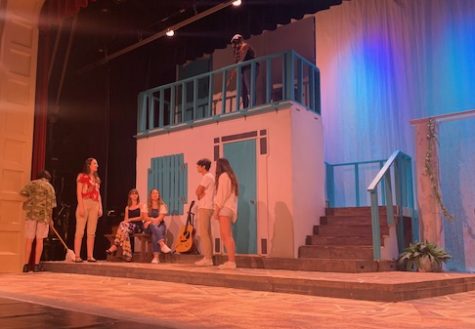 Cecilia Galke, Madeline McConville, Alison French, Pablo Costa and Ema Stankova in a scene from the first act of Mamma Mia (Mike Costello)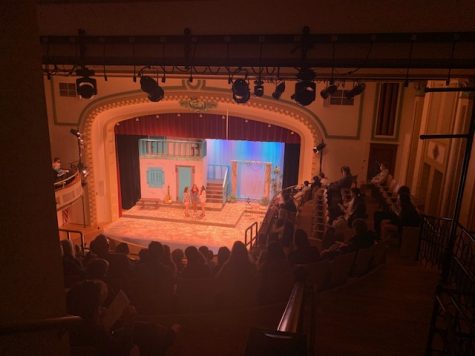 The audience was enthusiastic and singing along with some of the songs, laughing, enjoying the show. The large chorus and group of supporting actors kept the energy strong throughout the show.
" I enjoyed it, I love Mamma Mia and the ABBA songs are the best so it was really fun playing Sophie. " – Ema Stankova
Leave a Comment