Nordic ski qualifies for State
Their were some new faces in the weekly Thursday morning assembly in the St. Cecilia Theater. And they had reason to be smiling.
The members for the co-op Winona Senior High/Cotter Nordic ski team were recognized at the Thursday morning prayer service. The Nordic ski coach and Cotter teacher, Mr. Jacob Teichroew, talked about how well the athletes have been doing, how they got to where they are now, and what the next week holds for the team. In addition to the Cotter members of the team, the skiiers from Winona High came by for the assembly.
"The section race this last Tuesday went well for the girls and disappointing for the boys," Coach Teichroew said.  "The girls had their best race of the season and gave it their all to take second as a team and qualify for the state championship next week on Wednesday and Thursday."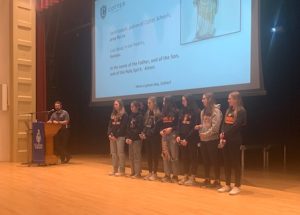 The girls' result wasn't necessarily a surprise as Coach Teichroew fully believed that they could qualify for state if they had their best race, and they were able to do that.
The Cotter athletes have been great this year with Makayla Finnegan making the sprint relay team and Sonja Semling also on the team that qualified for state. Will Hardy also did a great job this year finishing 11th at sections and just outside of going to state as an individual.
On the boys side, they were in second place as a team going into the last race of the day before one of the boys broke his ski binding early in the race. It took him out of the top 10 and the team into 3rd.
Olivia Teichroew, Coach Teichroew's daughter, is a 7th grader at Cotter that is an alternate on the varsity team going to state. "She has been great to have on the team this year, but sometimes it is difficult trying to manage being a parent and a coach at the same time, but it is also fun to watch her have fun and be successful."
The State meet will be held on Wednesday and Thursday, February 16 & 17th, at Giants Ridge, Biwabik, Minn.
Leave a Comment