Winter in Hawaii
Dateline: Hawaii
6:33 pm, January 29th, Kailua-Kona, Hawaii: We stepped out of the open airlock door, walking down stairs to the open-aired airport while the pink-and-purple evening light glowed softly through the clouds. A warm breeze blew across our faces as we took off our masks for our first breath of fresh air in six hours. My sister Maddie, a ninth grader at Cotter, captured this moment for a WSU photography competition.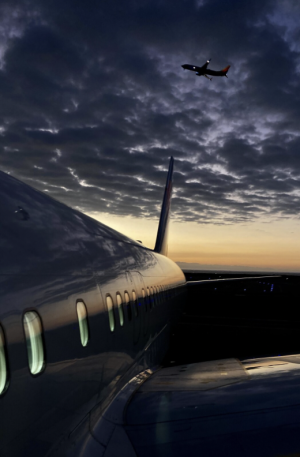 While others at Cotter were celebrating Winterfest, my sister and I were in the tropics with family friends. Taking a 9-day vacation during the school year isn't easy, but it was worth it. Below are my favorite beaches, restaurants, shops, and activities on the Big Island of Hawaii.
Beaches:
By far our favorite beach is Hapuna. With large waves, soft sand, and active lifeguards, it is a perfect beach for a family afternoon. However, the currents can be strong and the waves can get to 20 feet on days with a high surf advisory, so you have to be careful! Plus, there is a hiking path that led to another of our favorite beaches, Mauna Kea- which is like a smaller Hapuna beach with a closer wavebreak.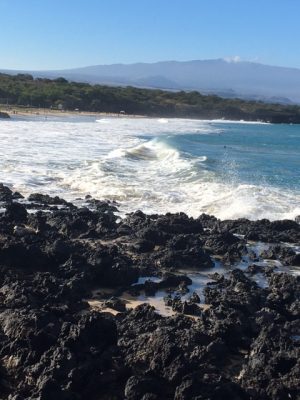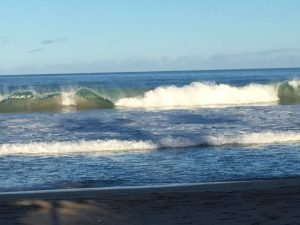 If you are a sea creature enthusiast, a wonderful way to see turtles is to visit the Honokohau beach at the Kaloko-Honokohau State Park.  The green sea turtle, called "Honu" in the Hawaiian language, will sunbathe and swim in this beach. Plus, the beach is beautiful at sunset: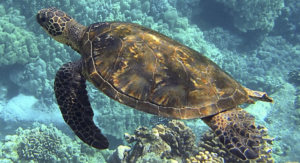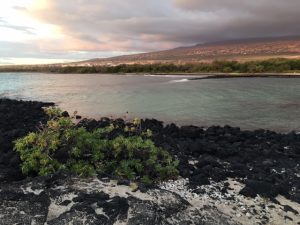 Other beautiful beaches are black sand beaches, especially in the evening. Traveling in the Big Island of Hawaii is a rare opportunity to see true black-sand beaches created by black volcanic rock.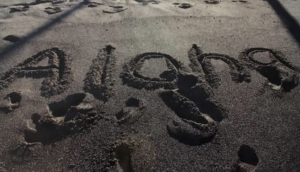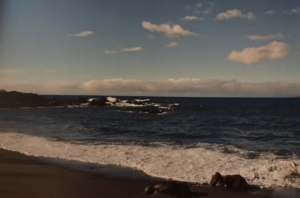 Shops:
Kings and Queens shops: These 2 shopping malls are right across the street from each other, and have a wide variety of restaurants and shops. There is a plethora of clothing stores, jewelry shops, and art stores, all overlooking a gorgeous river.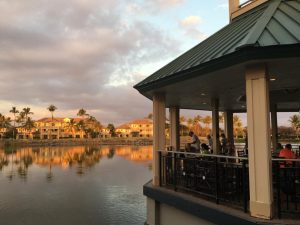 ABC store: These stores are found all across the Hawaiian islands, and carry fun and cheap souvenirs of all sorts! Its a one-stop shop for any traveler.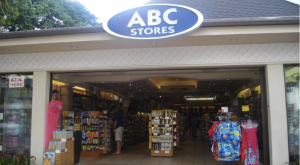 Puna Chocolate Co: This store is located in Kailua-Kona on the Big Island. It carries many types of chocolate, all made from beans grown locally on the Big Island. They produce some of the best chocolates I have ever tasted. Plus, all proceeds go directly to the farmers and their chocolate businesses- no trade!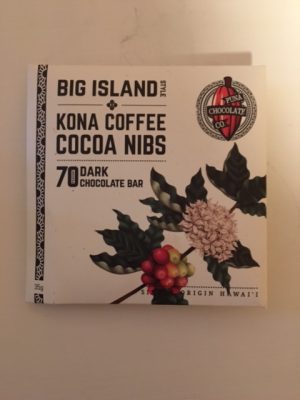 Restaurants:
Island Greens Restaurant: This place in the Kings mall sells unique salads and rice bowls, with Hawaiian touches like Kona-coffee steak or purple potato! The flavors are a mix of cuisines, truly something you can find nowhere else.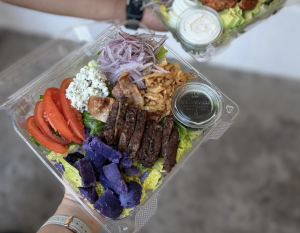 Lava Lava Beach Club:  This indoor/outdoor restaurant is situated on a beach on the Big Island, looking out over the ocean, which is especially beautiful in the evening sunset.  The restaurant carries many types of food, which is delicious!

Hawaiian Shrimp Co: This restaurant sells traditional Hawaiian cuisine, with plates of rice, noodle salad, pineapple, purple sweet potato/cabbage mix, and your choice of seafood/meats. My favorite meat was the Hawaiian coffee-rubbed steak!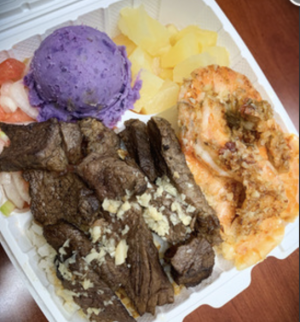 OBISIC shave ice: This store on the Big Island carries the most outrageous shaved ice- they sell huge shave-ice sundaes! Do not expect a "snow cone" with crunchy ice- Hawaiian shave ice is more like snow, made with very fine ice shavings.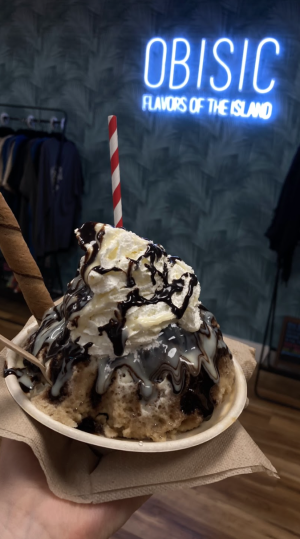 Ululani's shave ice: This Hawaiian chain's shave ice is not as huge and outrageous as OBISIC, but the fruity shave-ice syrups are unique and more flavorful.  For instance, you can try syrups of calamansi (a citrusy fruit), lychee (a sweet fruit in between a pineapple and grape), or lilikoi (passion fruit)!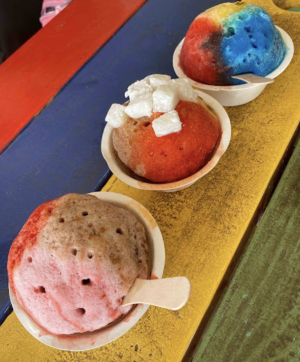 Other Activities:
Hawaii Volcanos National Park:
This amazing National Park is home to one of the most active Volcanos in the world- Kilauea. It is currently undergoing volcanic activity, with a "lava lake" in one of its craters. We were able to see this from a safe distance (though you can only see a small stream of lava, most of it is probably underground.)
There are also many amazing hiking trails in Hawaii Volcanos National Park. We went on the Thurston Lava tube hike, where we were able to walk through rainforest, see an old lava crater (nonactive) and walk through an old lava tube!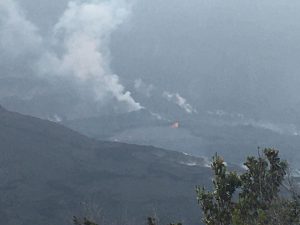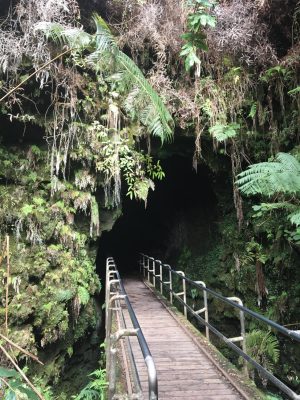 Puakō Petroglyph Park: Here thousands of ancient Hawaiian petroglyphs are preserved. We did a hike there at Malama trailhead, and saw some interesting designs: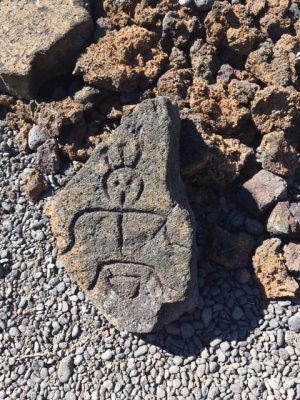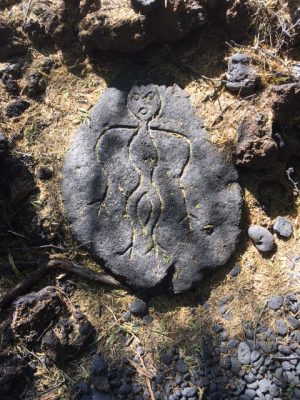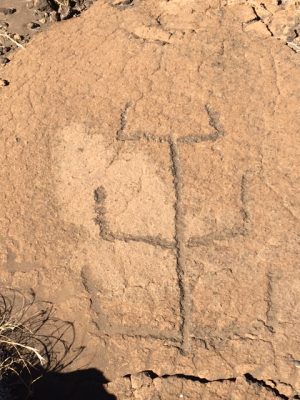 Waterfall: Akaka Falls State Park has a beautiful waterfall and rainforest hike, with many tropical species on display.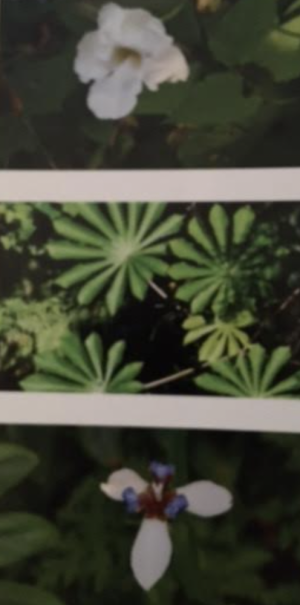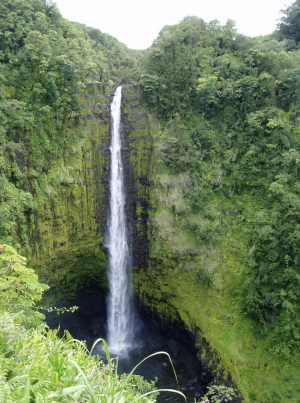 Stargazing: The Big Island has some of the darkest skies in the world, and a star observatory atop dormant volcano Mauna Kea. No tours are offered now, because of Covid, but even just traveling to a dark, high place and looking up is worth it.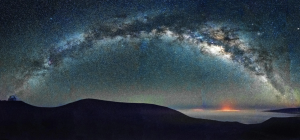 Whale Watching: Occasionally, you can see a puff of steam when you look out at the ocean. Whales pass by the Big Island in the winter, and will occasionally raise a flipper or breach. Whale tours are offered, but can be hit-or-miss as far as seeing whales (The Hawaiian island of Maui is a much better spot for whale tours). But you can catch a whale sighting by just looking out at the ocean.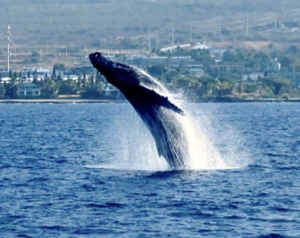 Leave a Comment