Mardi Gras bake sale aids student's family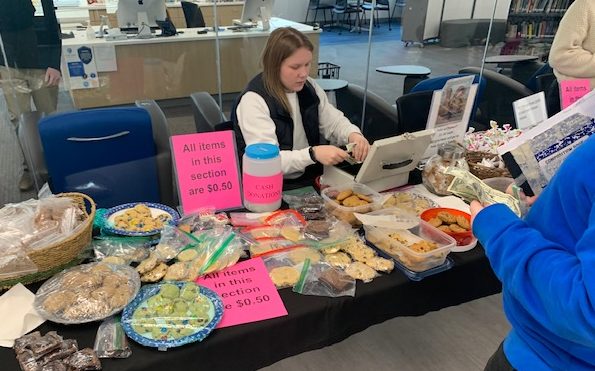 Cotter usually doesn't hold bake sales, but special circumstances call for special exceptions.
On Tuesday, March 1, which is also Mardi Gras, 2022, a bake sale was held in the St. Joseph Lobby, and the proceeds are going to help Cotter senior Sajida Mirzada raise money to help get her family out of Afghanistan and to safety.  Since the Taliban takeover, Sajida's parents and some of her siblings have been in hiding and are trying to find a way out of the country.  Sajida has not seen her family in over 3 years.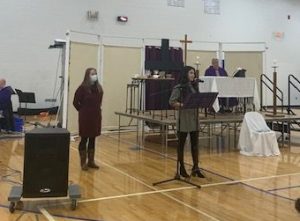 The sale was organized by the National Honor Society. Tomas Castillo-Pelaez and Megan Costello helped organize the event with guidance from Mrs. Corcoran, student workers included Hailey Biesanz, Grace Menke, Alisia Hull, and several others.
"The bake sale was really successful, we had a lot of students and staff purchase goods even more people donate money. The highlight was definitely one staff member donating $100. A lot of students donated baked goods for community service hours. It has shown togetherness and been a success for everyone," Hailey Biesanz, a senior who staffed the tables, said.
Mrs. Corcoran, director of Campus Minisitry, said,"I am really thrilled at people's generosity and how everyone wants to help Sajida's family but doesn't truly know how to help. The bake sale was a good way for people to be able to contribute to help her family. Knowing that our school is contributing to helping her family come to the US to be able to live in a much safer place is really awesome."
The sale raised over $1,500 for the Mirzada family..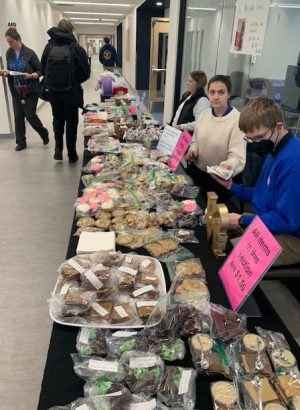 Leave a Comment