French, Briggs receive awards at spring band concert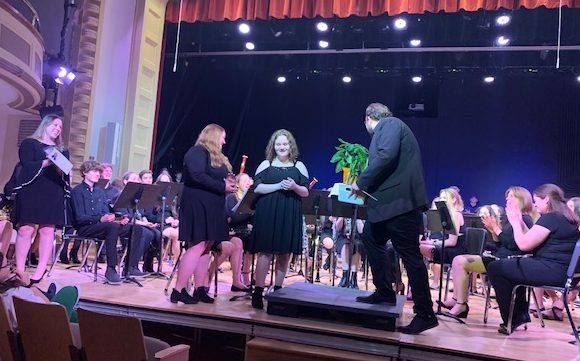 The Cotter High School concert band held its annual spring concert on Monday, March 21, in the St. Cecilia Theater.  During a break in the performance, band director Mr. Andy Meurer handed out two awards to graduating seniors who have been integral to the band's success.  The James J. Carroll award was given to flute player Abigail Briggs and The John Philip Sousa award was given to trombonist Alison French.  The awards were voted on by members of the band.
The concert featured two pieces by the winter drumline and three pieces by the full concert band.
Ali French, Suzanne Duellman, and Abby Allred, on behalf of the band's 20 senior members, presented Mr. Meurer with a gift for his work with him over their time at Cotter.
In addition to the performance band boosters presented information about fundraising opportunities and the Steamboat Days Chicken Queue in June and the Ashley for the Arts festival in Arcadia in August.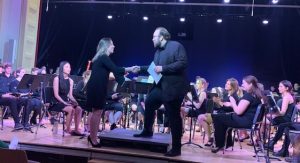 "I was really nervous about finding out about who won because my older brother Sam won the John Philip Sousa award when he was a senior. I was hoping that I could win just like him. After he announced my name, all I could think was what an honor. There are so many talented musicians in our band, especially our senior class, not to brag. I was very excited but I also knew that I could not have gotten here without my bandmates, my section, or my amazing teacher Mr. Meurer, "Ali French said.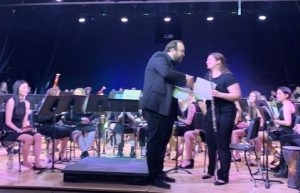 Her family has a strong tradition of being involved in music so she started playing her instrument quite early. She started private lessons at the beginning of 3rd grade. She was in the band program at her old school before she switched to Catholic education.
"Cotter's program blew that one away. Mr. Meurer has done such an amazing job with this band program and I have enjoyed every second I have been in it. I have had an experience that will forever be with me," French said.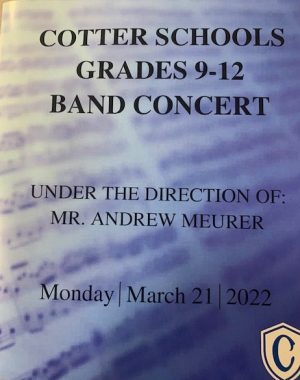 "I was pretty shocked to receive the band award, it was cool to receive that level of recognition! I was also pretty excited when I found out about it during the concert, and very thankful for the students who voted for me to receive that award," Abby Briggs said.
She has been in band at Cotter for about 6 years now. She is also a senior section leader.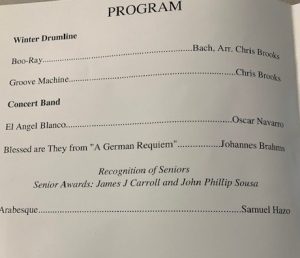 "I have the best memories with my friends in band, and I would not have it any other way. Being in band is a very positive experience, and I would recommend it to any high schooler in Cotter because we are lucky enough to have a program that is open to all students, regardless of skill level,"  Briggs said.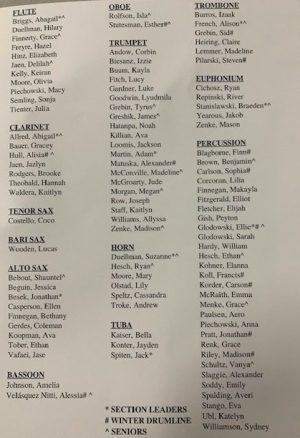 Leave a Comment