Mrs. Olstad takes a bow
There was singing, hugging, presentations, and standing ovations.
Mrs. Julie Olstad has been the choir teacher at WACS & Cotter Schools for 28 years. On Tuesday, May 17, 2022 she directed her final  concert at Cotter.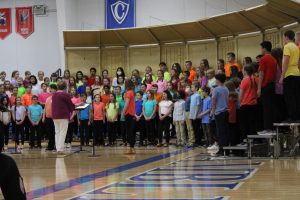 "It was definitely emotional watching my mom's last concert of her career and hearing all the touching words spoken about her. I've been going to her concerts my entire life, so it'll be a big change. My daughter, husband, sister, dad, and I were all there to see it. I also I Facetimed my brother, who lives in California, so he could be there with us, too," said Megan Nordgren, Mrs.Olstad's daughter and Cotter graduate and staff member.
"She would always get nervous before a concert, so she had those nerves on Tuesday, plus the emotions of it being her last concert after 43 years of teaching. She was so happy with how everything turned out and felt so honored by all the staff and students who spoke," Megan added.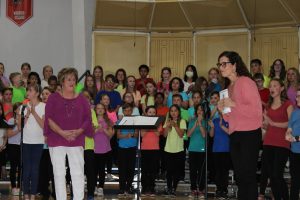 Mrs. Olstad has continued to teach because she loves her job so much.  She is looking forward enjoying her free time and doing things she enjoys.
"I am proud of my mom's career for a lot of reasons. She was my daughter Lily's music teacher, which was so much fun for all of us. She also taught 2 of her 3 children. I think it can be rare in this world to find something you love so much, make a career out of it, and still love it 43 years later. I've always admired that my mom can bring out that level of talent in kids. She's also always gone out of her way to seek out students who may struggle in other areas, but are gifted musically. Those students are able to shine through music, and it can be life-changing for them. She's had a lot of impact in 43 years and thousands of students," Megan said.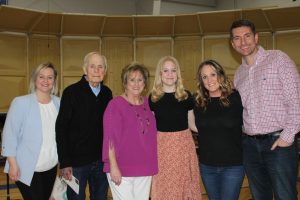 Mrs. Olstad will be deeply missed by the Cotter community and we appreciate everything she has done for students and the Cotter community for the past 28 years.
Leave a Comment