Cotter Hall of Fame 2022 – Drew Gibson ('97)
Competitive fire. It's a characteristic that all great athletes possess and 1997 Cotter grad. Drew Gibson had in spades. 
Drew was a three sport star at Cotter, excelling in football, basketball, and track and earned a letter in golf as an 8th grader. He played wide receiver, safety, and quarterback in football and was three year letter winner, was twice named All-HVL, twice Winona Daily News and Rochester Post-Bulletin all areas teams, he was the team MVP his senior year  and was named  honorable mention all-state. His Cotter football team was conference champions and runners-up in their section.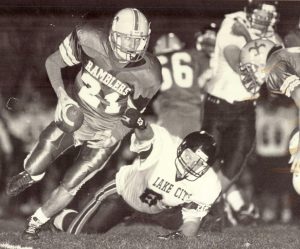 "What I loved about Drew was the confidence he had in himself that in the end he would find a way to win. That confidence carried many of his teams to victories that otherwise may not have happened," said Jeff Conway, Cotter's football coach from 1992-1995.
"Drew had three characteristics that every coach looks for in a player. He was a naturally gifted athlete, there were not too many things he couldn't do. Secondly, he was smart. He understood the sports he played and used his intelligence to figure out ways to win games. Finally, he was mentally tough. He had the emotional makeup to never get rattled regardless of the game or the moment. The bigger the moment, the more you could count on him to find a way to win," Conway said.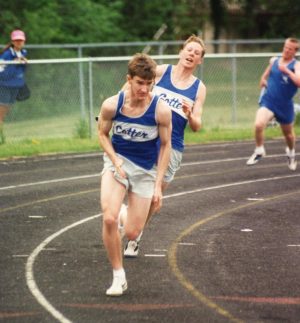 In track and field, Drew is the school record holder in the high jump, an event he qualified for the State meet in both his junior and senior years and was the section champ as a senior. He was a member of both the 4×100 and 4×400 teams that also set school records and earned section championships in each event.  Drew's 4×100 teams were State runners-up in both 1996 and 1997 and the 4×400 team was also runners-up in 1997.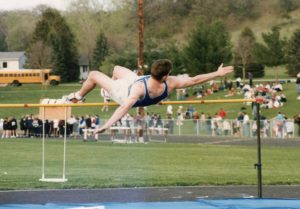 "What stood out about Drew was his dedication and work ethic. He was always driven to be as good if not better than his brother (and fellow Cotter Hall of Famer) Will . I understood that relationship having grown up with a brother close to my age, we always made each other better. One of my fondest memories from coaching is the State meet in 1996 finishing 2nd in the 4×100 meter relay bookended by the Gibson brothers," said Dave Boone, Cotter's track coach from 1994-1997.
"We had so much fun at practice and hanging out in the coaches' office afterwards. Drew helped build the program by recruiting and encouraging others to join him in going out for track and in doing so we went from a team that couldn't score a point to winning conference and finishing  4th in the State meet in 1996. Drew definitely defined excellence and he represented the program, as well as Cotter, with distinction and honor."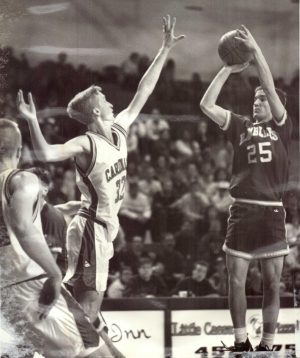 In basketball, Drew was a four year letter winner, a three year starter, three-time all-HVL, three-time all-area, and was named to the Winona State Holiday Classic all-tournament team three times. Drew was an explosive scorer who tallied over 1,000 points in his career. He once had 28 points in the first half in a victory over Stewartville and made a 35 foot buzzer beater to defeat Dover-Eyota in a sectional playoff game.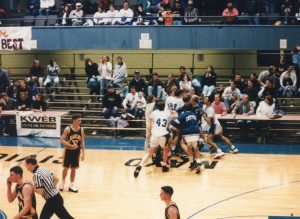 "Drew was a true competitor who wanted to make the big play in a big moment. I remember him receiving a full-court pass with one second on the clock and hitting a turn-around jumper to against Lourdes to send the game to overtime. He played his best against the best," said Mathias O'Brien, Cotter's athletic director, who was a football and basketball teammate of Drew's. 
Drew was also named the John Leaf Athlete of the year and Senior Boy of the year at Cotter in 1997.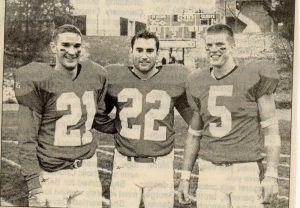 Drew had an outstanding collegiate career in both football and basketball as St. John's University.  Drew played for John Gagliardi coached Johnnie football teams that earned four trips to the the NCAA tournament, making it to the quarterfinals, semi-finals, and championship game before losing to the eventual national champions in three straight seasons.  Drew scored two touchdowns in a victory over arch-rival St. Thomas in the 100th anniversary game at St. John's attended by over 12,000 fans.  Drew played on St. John's basketball teams coached by Jim Smith that were MIAC champions in 2001 and conference tournament champions his junior and senior years.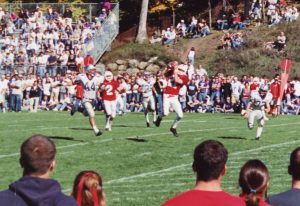 After college, Drew spent a year in Australia where he played football for the West Sydney Pirates club and was the team MVP and still holds club records for catches in a season (68) and yards receiving in a season (1,208).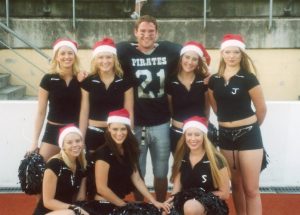 "Sports at Cotter helped focus my competitive spirit.   I find my greatest joy and learned my greatest lessons from competing, and I strongly believe that finding that desire and focusing it creates the right mindset for navigating life. There are many lessons learned from coaches, teammates, competitors that I recall on daily. Through having great coaches, hard work, or just ignorance, I believed every team I played on and every game I played in, I believed  we could win" Drew said.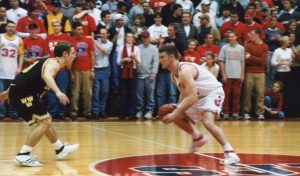 Drew is the President and Chief Operating Officer at Whetstone Machine and he and his Alissa have five children John, Elizabeth, Erin, Emily, and Grace.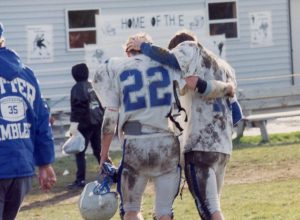 Leave a Comment