Cotter Hall of Fame 2022 – Jon Kosidowski ('59)
Few people have made as large a contribution to local sports as a player, coach, and official as 1959 Cotter graduate Jon Kosidowski.
At Cotter, Jon was an all-conference basketball and baseball player. He was a guard on Cotter's 1958 team that finished as a runner up in the Catholic State tournament and a starting pitcher and outfielder on the baseball team that was also State runner-up in 1959.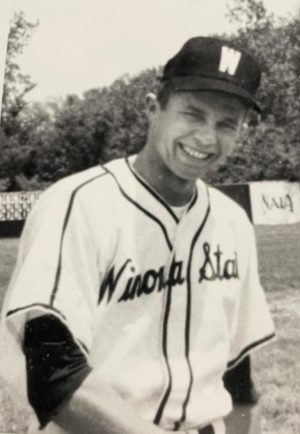 Following high school, Jon had an outstanding baseball career at Winona State,where he had 18-8 record as a pitcher and a .367 career batting average. He was first-team NAIA All-American in 1963, he was three time all-conference and two time all-district player.
He was named two-time NAIA all tournament team. Jon was inducted into the Winona State Hall of Fame in 2017. In 1963 he was offered a minor league contract by the Washington Senators and later had a tryout with the Minnesota Twins, where his roommate was Ken Holtzman and future stars Reggie Smith and Reggie Jackson were also in the camp.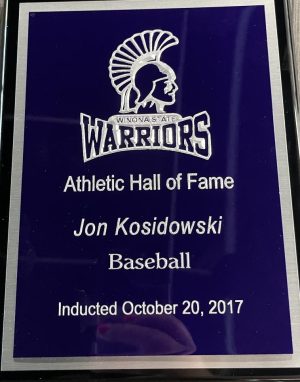 Jon played amateur baseball from 1956 until 1977 and was a member of state championship teams in both Winona and Pepin, WI.  He was player-manager for two fastpitch softball teams from Winona that won state championships, as well.
Jon had a monumental career as an official. He officiated baseball, softball, football, and basketball for 44 years in Minnesota, Wisconsin, and Iowa, at both the high school and collegiate levels. 
He officiated in Minnesota State championship games in all four sports, including the inaugural Prep Bowl, earning great respect from his peers and coaches for his work. Jon worked for many years as a clinician training other officials and served as a representative to the National High School Federation, working as a member of the softball rules committee.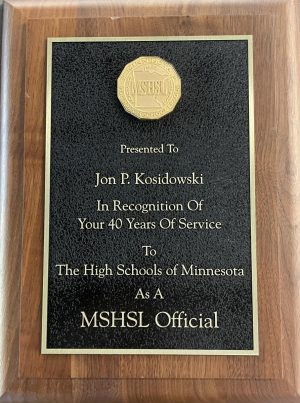 "What stood out to other officials the most was Jon's ability to be a teacher and mentor to many of them.  I know that he opened a lot of doors for many officials. His teaching and mentoring helped many to reach higher levels of officiating including state tournaments and working at the college level.  I know that I would not have been able to advance in the world of officiating without Jon's mentoring and teaching," said Randy Lisowski, former Cotter teacher and coach, who is also a long time, four sport official. 
"Jon was an incredibly well respected official who had great relationships with coaches. Without question he was one of the finest officials in the state in multiple sports," Pat Bowlin, Cotter basketball and softball coach said.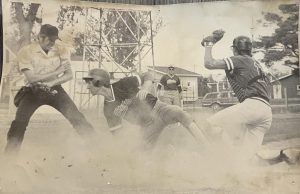 Jon looks back at his time attending, then teaching and coaching at Cotter, fondly.  He spent a year as he was completing college as Cotter's band and choir director and he helped coach baseball, football and basketball for a number of years. 
"When I was at Cotter there were a lot of priests teaching there and I became and remained friends with many of them. Fr. Habiger was our principal, he was tough but fair and cared for the students.  Fr. McCauley was another teacher who served as principal, and Fr. Paul Nelson was a great guy. He hired me to teach at Cotter while I was still finishing school at Winona State. John Nett was a real mentor to me and I was his assistant coach from 1960-1966, and I helped Jim Mullen with baseball, and Bob Welch, who became my best friend, with football," Jon said.
Prior to returning to work at Winona State, the Kosidowski's lived in Wadena for a number of years. "Our two oldest children, Mike and Kelly, graduated from Wadena and Tim was going to be a senior when we moved back to Winona. He wanted to finish his final year there, but we thought it best he stay with us.  He ended up going to Cotter and when he graduated he said he wished he could of gone there for another year. Our seven youngest kids all received a great education and high school experience at Cotter."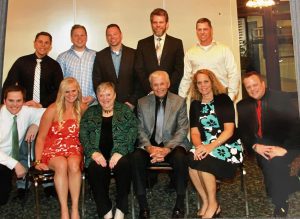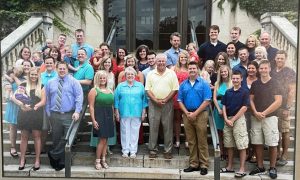 Jon enjoys golfing at Westfield, fishing the Mississippi, and spending time working in his flower garden. You may also catch him playing piano in the lobby of Winona Health.
Jon and Carolyn, his wife of 59 years, love traveling to visit their nine children, 22 grandchildren and 7 great-grandchildren. After living in the same house for 37 years since moving back to Winona, John and Carolyn are planning to relocate to Alexandria in the near future to be closer to their children.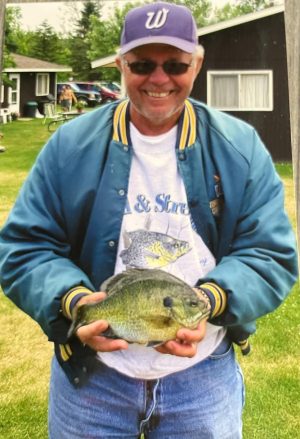 Leave a Comment