Cultivating "Habits of Freedom": an Interview with Fr. Chris Collins
It is always good to catch up with old friends.
Especially when they are as nice as Fr. Chris Collins. While dropping his daughter off for freshman orientation, Cotter's Mike Costello had a chance to speak with Fr. Collins in his office at the University of St. Thomas in St. Paul, where he is serving as Vice President of Mission and is working closely with new University President,  Rob Vischer.
After graduating from St. Thomas as an undergraduate, Collins taught religion at Cotter for two years prior to joining the Jesuit order. In this interview Fr. Collins speaks about his time at Cotter, the many stops on his journey, his work as an author, and habits that are useful for students transitioning to college.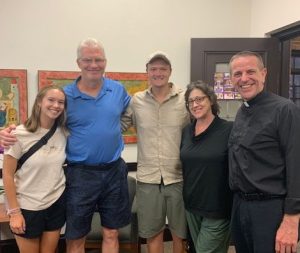 Leave a Comment