Mock Trial adds second competition team
Cotter's Mock Trial program continues to grow and thrive.
Started in 2017 by Cotter history teacher and administrator Evan Howard, the program, which is run by the Minnesota Bar Association, has added a second competition team this year. There are now 21 students participating on the teams. The Cotter Blue team is made up primarily of returning team members and is  coached by first year social studies teacher, Sydney Bockelman. The Cotter White team is made up of all new team members, mostly juniors, and is coached by English teacher Paul Schmitt, who returns for his second year with the program. Mr. Howard handles the logistics and scheduling and all three coaches work with both teams at times.
The coaches have been impressed by the effort the students put into this extra-curricular activity, where students who are also involved in things like sports, student council, speech, and other commitments find time to meet before and after school to learn the rules of trial and prepare their cases.
"I am constantly impressed not only that students opt in to an activity as rigorous and challenging as mock trial, but that those who do end up loving it as much as they do–even if they don't plan on pursuing a career in law. It is wonderful to see students taking skills we develop in the English classroom–such as argumentation, careful use of vocabulary, and analysis of sources–and apply them to an entirely new context where they are pitted against teams from other schools who are just as prepared as they are," Mr. Schmitt said.
"Mock trial brings different groups or cliques of students together, and it's really neat to see people who aren't always friends outside of the classroom working so well together to tackle the intellectual challenge of building a strong case. Seeing the little pieces of the puzzle fall into place as students make connections between the evidence & law, and seeing the pride they have from crafting these arguments is certainly a highlight for me," Ms. Bockelman said.
The coaches also noted that it takes teamwork to tackle the problems the case presents and that the team members have been working diligently together to prepare for competition, which take place in actual courtrooms and are presided over by attorneys and judges. So far they have had meets in both the Olmstead County and Winona County courthouses against teams from Rochester Mayo, John Marshall, and Albert Lea.
"There's such a learning curve at first with determining how to logically build our argument for each side of the case, understanding the rules of evidence, and figuring out courtroom decorum. All of our students put in so much effort outside of our weekly practices to bring everything together for trial. Seeing that commitment and determination come to fruition in a competition in an actual courtroom, and seeing the students even more prepared than some young lawyers, definitely brings a lot of satisfaction, " Bockelman said.
"Building a case for a plaintiff or a defendant sheds light on the stakes of language and logic that we learn about in school but can sometimes feel abstract or disconnected from the "real world." There is a real satisfaction for students when they figure out a way for all the pieces of evidence and witness testimony click into place to create a compelling argument for guilt or innocence, and that satisfaction only heightens when they get to act out their hard work and preparation in a courtroom setting for real judges and attorneys who score their performance," Schmitt said.
"
It stretches my brain to think in ways that I haven't done before. I love this new challenge of problem solving
— Makarah Olcott
The team is a mix of new and returning members and the coaching staff has split the two teams up both by experience and when they are able to meet for practice.
"This is my first year doing Mock Trial, and I am enjoying it a lot. I thought learning more about the court system sounded interesting. I can definitely say this is out of my comfort zone but is helping with public speaking. The coaches have made it very enjoyable and fun experience," junior Emma McRaith said.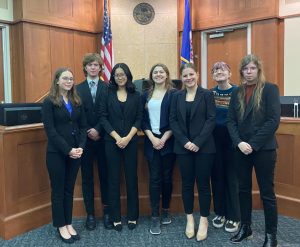 "I joined Mock Trial because I wanted the experience of competing with my friends and learning more about our government at the same time. It is going really well, as we have won both of our meets thus far. I am learning all about the trial system and how a lawyer should be prepared and what their roles consist of in a trial. I really like how it requires memorization but also spontaneous answers as well," junior Savannah Loken said.
"I joined Mock Trial mostly for a new experience in my senior year. Why not have as many Cotter experiences as I can while I have the time?  So far it's been an interesting, sometimes stressful experience. It stretches my brain to think in ways that I haven't done before. I love this new challenge of problem solving," Makarah Olcott said.
"
I loved that the team wasn't just improving, but it was also helping all of us become close friends
— Maddie Lemmer
"I want to become a lawyer and I knew this was a great place to start. I had heard such great things about the program. I returned to the team this year because I absolutely fell in love with it. All the people and teachers are so nice and accepting. I was consistently supported and listened to and never felt less than others. I also loved the competition. The thrill of getting an objection sustained or delivering a great argument is like no other. Mock Trial is my favorite activity I'm in and can't wait to continue the season," said sophomore Maddie Lemmer.
"The program is growing  tremendously since I joined in 9th grade. Going to State was the highlight of last year and to see our team grow within our case theory and in our relationships with each other was amazing. I loved that the team wasn't just improving, but it was also helping all of us become close friends," Lemmer added.
Lemmer also appreciates the three teachers who run the Mock Trial program.
"Ms. Bockelman is such a great addition. She has been amazing in supporting us all through both wins and losses. She continuously offers us support, criticism, and ways to better ourselves and our case theories. Mr. Schmidt is one of the kindest people I know. He is always so supportive and understanding. He constantly helps us develop our case and provides insight into things we often don't even think about. I want to thank Mr. Howard for getting Mock Trial started at Cotter. He is an actual genius when it comes to Mock Trial."
The teams are back in competition this week and will soon enter the State qualifying meets with the goal of reaching the State competition, which takes place March 2nd and 3rd in St. Paul.
Leave a Comment