Speech team has strong season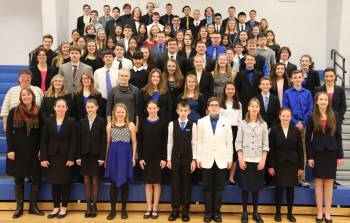 Cotter speech placed second at the section speech meet and had a very good season.
They won a lot of meets and had lots of fun doing it. The team sent 9 speakers to state this year and 3 people placed in state finals. Gina Pham, Steve Hadaway and Noah French all placed at State.
"The overall growth of the team was what I was most impressed about. We attended Glenbrooks in Chicago for the first time. We sent kids to the National Qualifier. We had multiple categories that haven't been regarded as our strongest step up and cement themselves as top performers in the area. A lot of these kids are young too and still have more years to grow and improve. I think the team will be very strong in years to come because of the dedication of the youthful members." said Tyler Larkin, who coaches interpretation.
"I am looking forward to just working with the students again next year, meeting those who are new and watching returners grow in this craft and become more competitive!  I am also looking forward to seeing our team continue on the great path it's currently on.  Finally, I am looking forward to our team becoming more competitive at the National Qualifier in the Glenbrooks, as well as at the NSDA qualifier in March; hopefully breaking someone out to Octo-finals!  And qualifying more students at state next year, with even more medaling." stated co-head coach Amy French
"Favorite memories of the season include seeing new students find their presentation style and develop their pieces throughout the season.  A second was watching so many students break into section finals and the excitement and energy of the chance to qualify for state.  You could feel the entire room hold a collective breath waiting for 4th place to be called; and then to watch the huge smiles from the top three moving on to state.  It was an emotional roller coaster," co-coach Deb Beckman said.

Aidan Beckman, who was a state champion in 2015, took 8th place in 2016 and was a state participant this year had this to say:
"This season I had many victories, and grew even more as a speaker. Next year I look forward to attending Bradley University. Bradley is home to one of the United States' best speech teams, and has won the national speech tournament more times then Alabama, Notre Dame, and Penn State in football combined. I am looking forward to being a part of this team. My favorite memories from this past season was watching younger members of the team place at various meets. Seeing how much the younger members have already learned, and how their hard work has paid off is truly fun to watch."