Mary Hoffman makes a difference
Making a difference.
That is a life goal for many of us. We always say that things need to be changed in our world. That we have to do something, but few of us actually take action.
One of the people who does is Mary Hoffman. Mary is a current member and founder of WYA (Winona Youth Actions) and focuses most of her time on solving and promoting awareness to issues in our community.
Mary founded WYA along with a friend about a year ago after attending a #enough rally. She took a risk and wasn't expecting it to grow so much but couldn't be more proud that it did.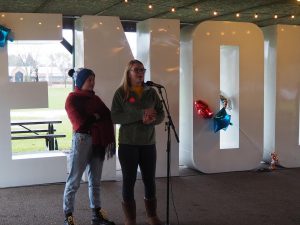 As you may assume from the previous statement, one major issue that Mary tackled earlier this year was promoting awareness to gun sense/gun safety. She held several rallies, as well as spoke in front of the school, providing everyone with further information.
This is an issue she has been passionate about for long time. Unfortunately, WYA hasn't been as active this second semester, as they'd planned when it comes to gun control, but still continue to do their part in promoting awareness for gun sense and gun safety. They held two rallies back in November, both of which were successful in their goals of reaching out to more people.
Besides the red flag laws, the crew has also been working on issues with climate solidarity. Climate solidarity is a really big issue in our world concerning the well being of our animals and environment.
One major cause of this issue is our excessive use of plastics. On average, Americans alone, use 500 million plastic straws a day, and that's just plastic straws alone. Think about that in comparison to plastic bags and plastic bottles, things just as common as straws. This is overall, very wasteful and puts our oceans and ocean life in danger.
Mary and the rest of the group have been advocating for stopping the use of plastic straws in the school and plan on participating in and hopefully hosting a few rallies as well as writing politicians about her concerns.
Plastic straws are easy to get rid of and could be a start to solving our world problems. Mary has been advocating strongly for ending the use of plastic straws in Cotter specifically and so far so good. Mary has seen students using fewer plastic straws and more re-usable ones.
"It may be a very small impact, but its a start and I hope it continues in the future, even when we are gone after next school year," Hoffman said.
Mary plans on studying these passions in college and hopes to have a career in art where she uses her art to influence people and spread awareness about world issues.
Why is it important for young people to take action?
This is our future and we are the ones who have to fix things. It may be scary to put yourself out there and use your voice, but Mary Hoffman has proved that even just one person can make a huge difference.