WSU hall of famer addresses Rambler athletes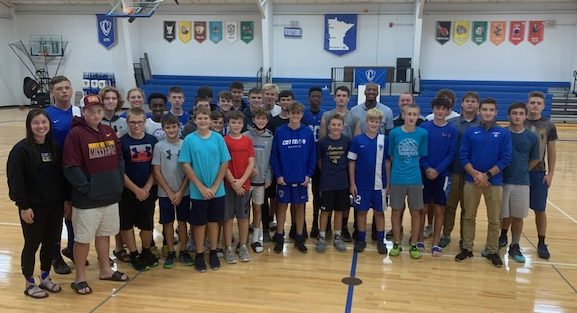 Winona State basketball star Jonte Flowers spoke to athletes and parents at Cotter on Thursday, October 7.
His message of preparation, passion, and purpose being keys to success in education, sports, and life was well received by the audience. Flowers also talked about how playing competitive pick up games in all sports with his older brothers fueled his competitive drive.
As a player at Winona State, Flowers was part of two national championship teams and on the team that had a 57 game win streak, was a four time conference defensive player of the year award winner, and is 2nd all-time in the NCAA in steals.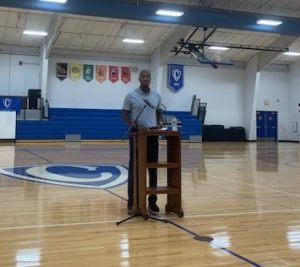 After college, Flowers played professional basketball for 11 years in Sweden, Finland, France, Italy, Romania, and Poland.
Flowers was in Winona to be inducted into the Winona State University Sports Hall of Fame as part of  the homecoming weekend festivities.  The induction was on Friday, October 8, and Flowers and his family were driven in a convertible as featured guests in the Homecoming Parade prior to the football game on October 9.
Flowers came to Cotter at the invitation of Rambler Associate Athletic Director Jason Klug.
Leave a Comment