Scott Zhu: Sneakerhead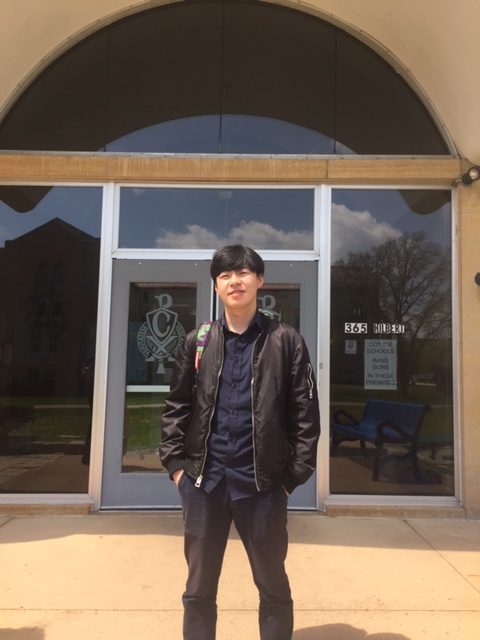 What may just seem like a shoe to us, is a collectible masterpiece to another.
Scott Zhu is one of the latter shoe enthusiasts, or sneakerheads.
The birth of sneakerhead culture in the United States came in the 1980s and can be attributed to two major sources: basketball, specifically the emergence of Michael Jordan and his eponymous Air Jordan line of shoes which were released in 1985, and the growth of hip hop music.
The boom of signature basketball shoes during this era provided a collecting subculture, while the hip-hop movement gave the sneakers their street credibility as well as status symbols. The sneakerhead culture has emerged in the United Kingdom and the Czech Republic in the last decade.
People who invest time, and money into collecting shoes are known as sneakerheads, but people collect these extravagant shoes for different reasons. Perhaps they are interested in sports like football, soccer, baseball, and specifically basketball. Some people collect sneakers because they simply like how they look and use them as an expensive fashion statement. But most commonly, people buy them as a hobby to trade and collect and to belong as a part of the 'sneakerhead' community.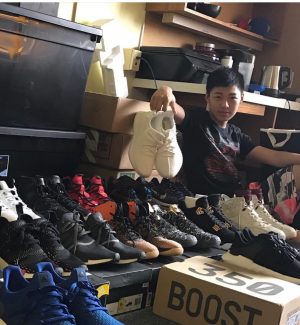 Several popular brands and styles of sneakers have emerged as collector's items in the sneakerhead community. Popular collections include Air Jordans, Air Force Ones, Nike Dunks, Nike Skateboarding, Nike Air Max, and more recently, the Nike Air Yeezy and Adidas Yeezy. Shoes that have the most value are usually exclusive or limited editions. Also, certain color schemes may be rarer relative to others in the same sneaker, inflating desirability and value. More recently, sneaker customs, or one-of-a-kind sneakers that have been hand-painted, have become popular as well
And Cotter's own member of this exclusive 'sneakerhead community" is Scott Zhu.
Scott Zhu is a high school senior, an international student, a sneaker enthusiast and little known to the public, a business owner.

Scott is the owner and founder of an online company named "Sole Stage" which operates by buying and selling rare and exclusive sneakers. Scott's business is made possible through a supporter who lives in China and another partner who also lives in Los Angeles. He decided to begin his business back in October of 2016 because he believed that it could spice things up in the dorms and to "help (himself) collect more shoes". In the beginning, this business was created merely to buy some personal shoes for himself but ever since then the business grew, he began to find the value of these shoes and started to do some research about the shoes and make the money from the shoes.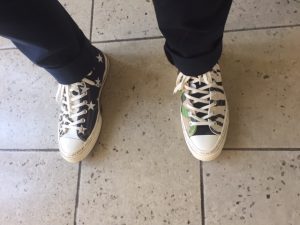 Many of his clients are in other countries, so shipping can be an issue and he says there have been times where customs or importers have held up deliveries, but in the end it usually works out for buyer and seller.
Even though Scott is passionate about selling shoes, one of his focuses is giving back to the world. For every shoe he is able to sell, he donates $1 to help take care of the oceans. Last year he was able to donate $220 to the cause.
Scott's future is looking bright as he plans to go to school in San Francisco to study business to help further his career in business. He also plans to open a brick and mortar store there where he can sell shoes to the public.
When asked why he collects these shoes Scott said that "because I like to gain praise from others and want to more attention". So perhaps the impulse to buy shoes and collect them is much more than a hobby, and more of a status symbol to some.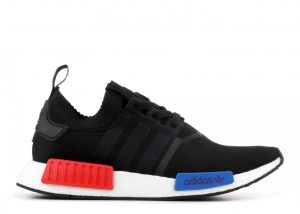 Another well known Cotter sneakerhead, and Scott's good friend, Jerry Yang. Jerry also invests time and money into his sneaker collection, and can always be seen rocking a fresh pair of kicks. When asked about why he chooses to invest in shoes, Jerry replied: " I buy shoes because I like them and it's fun to try different kinds of shoes". Jerry's favorite pair of shoes is "Adidas NMD PK" which retail for over 300 dollars.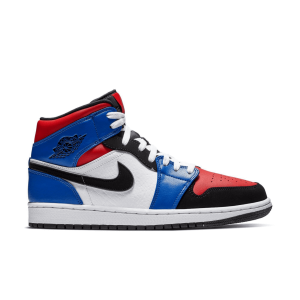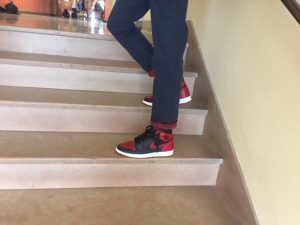 Another Cotter sneakerhead, is Connor Yocum, a sophomore on the varsity basketball team  Connor can always be seen walking up and down the halls, sporting a new pair of Nikes. Connor says he buys shoes because"he likes getting new things and to look cool". And he says his favorite shoes are the "Jordan 1's" which retail for between 125-165$. Connor owns 28 pairs of shoes and 2 pairs of non-matching shoes.
So even if exotic sneaker collecting isn't for you, I recommend supporting a fellow Rambler and checking out Scott Zhu's website: https://www.solestage.com/.
Or perhaps consider donating to the same cause as Scott, and donate: https://www.pewtrusts.org/en/projects/protecting-antarcticas-southern-ocean.