Bike Lab keeps the good vibes rolling
Heydi and Jose are immigrants from Honduras.
When they came to Winona with their children, Anthony and Bradley, they relied on the help of the people of the city to help them find funding, housing, food, clothing, and transportation as they got resettled.
Between immigration rules making it difficult for them to find jobs, Jose's still-healing leg injury, the language and cultural barriers of moving from Honduras to Minnesota, chances of finding a reliable form of transportation appeared slim.
"We didn't go anywhere because we didn't have bikes," said Heydi. "Sometimes people gave us rides in cars."
As more and more of their family joined them in Winona,  it seemed like they would need to keep surviving off of the willingness and availability of other Winonans to give them rides to work or the store. Then the Cotter Bike Lab stepped in to provide some much needed assistance.
"It's really true that the bikes help us a lot, in order to be able to move around," said Heydi.
To date, Cotter High School's Bike Lab has donated 68 bicycles to those in need.
"We have bikes riding around under immigrant and refugee people, kids whose parents cannot afford one, adults with certain life challenges, and even a few Cotter graduates who are busy getting their adult lives started at college. In particular, I am the most pleased to know our refugee community has some bikes to enjoy Winona with," said Mr. Eric Paulsen, who founded and runs Cotter's Bike Lab.
Mr. Paulsen ran a similar group at Net Work charter school in Eugene, Oregon. When he began teaching at Cotter, he discovered that the school had a small supply of bikes in various states of disrepair.
"At Cotter, Mrs. Fitch helped me secure the funding, and away we went. Cotter has always been so supportive of the idea. Bike Lab is now four years old, counting the Covid years. We have a partnership with my favorite local bike shop, Adventure Cycle and Ski here in Winona," Paulsen said.
While one of the goals of bike lab has been to teach kids how to fix bikes, there's no doubt as to who the #1 wrench in the shop has been for the past four years.
"I love working with the kids, but I also like working on bikes, and I want to make sure that when we deliver a bike all it's parts are working properly."
Regarding the quality of the bikes her family received, Heydi said, "They must be really good at fixing up bikes there."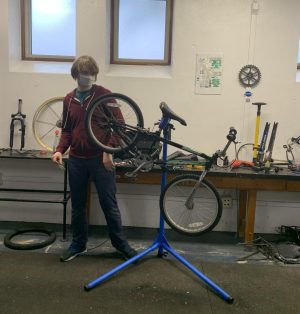 Paulsen started working with bikes very early in his life. "I've always been into bicycles, ever since I can remember," he said. "My first bike race was when I was three. Growing up, my dad stopped paying for my bikes to get fixed and instead started buying me some tools to fix them."
Paulsen has cultivated a "strange little network" of Winonans, people from the Catholic Worker house, Winona County Services, and a bunch of people connected to other groups that provide services around to town, who either donate bikes or recommend donors.
"I'm really grateful for the support of the administration, the support of the custodians, and all the kids who have participated in the program. It's another thing producing smiles in the Cotter community. It's part service, part charity, part learning, and part fun."
When the program first started there were a mix of both boys in girls who were scheduled on Wednesdays and Thursdays for two 40 minute "flex" periods each week.
"I learned some stuff by trial and error there. Some of the kids were there to work and learn, and others probably would have been better off using the time to study for their other classes."
"
It's part service, part charity, part learning, and part fun
— Eric Paulsen
Mr. Paulsen has a lot to say about the joy he gets out of the lab. "My favorite thing is to witness when a student finishes a repair and feels a sense of pride in their work. I also really enjoy the laughter and loudness, the crazy outcomes, and the mechanical miracles that happen all the time in the lab."
A favorite memory is "when we built "Trisha" the tri-shaw. Cotter has a 1952 Malaysian bike taxi, and it works! Mr. Reigstad and I would ride it around and give kids rides to the old cafeteria."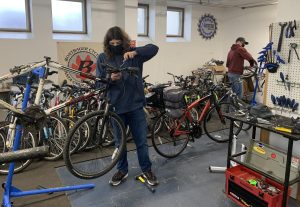 Heydi and Jose, have found ways to use the bikes they received from Cotter's Bike Lab.
"I use my bike to go shopping most of all, and the baby trailer on it really helps a lot," said Heydi. "Sometimes we use it to go to the park, or to go have a picnic… I have a really comfortable seat on my bike that Jose's really jealous of."
Jose said that he and Heydi like to use their bikes to "go on an adventure to Midtown."
Iris, Heydi's aunt, said her favorite place to go on her bike is "wherever Heydi takes me."
Anthony, their older son, likes to bike around the neighborhood.
The family expressed their thanks Mr. Paulsen and the bike lab, and Jose joked that he would like Mr. Paulsen to know that his bike needs a new seat, and also a new driver.
The program will continue to evolve.  There are plans in place for many of the current bikes to be moved to the Cotter Residence Center and a new shipment of mountain bikes will be arriving, in need of assembly.
Mr. Paulsen's message to any students considering joining Bike Lab:  "If you are interested, please find me and I will inform you of how to participate. All are welcome, all are valued. Service hours are available too. Prepare to get your hands dirty and make sure you bring a smile."
Leave a Comment