Homecoming king to LA artist: Nikita Budkov chasing his own vision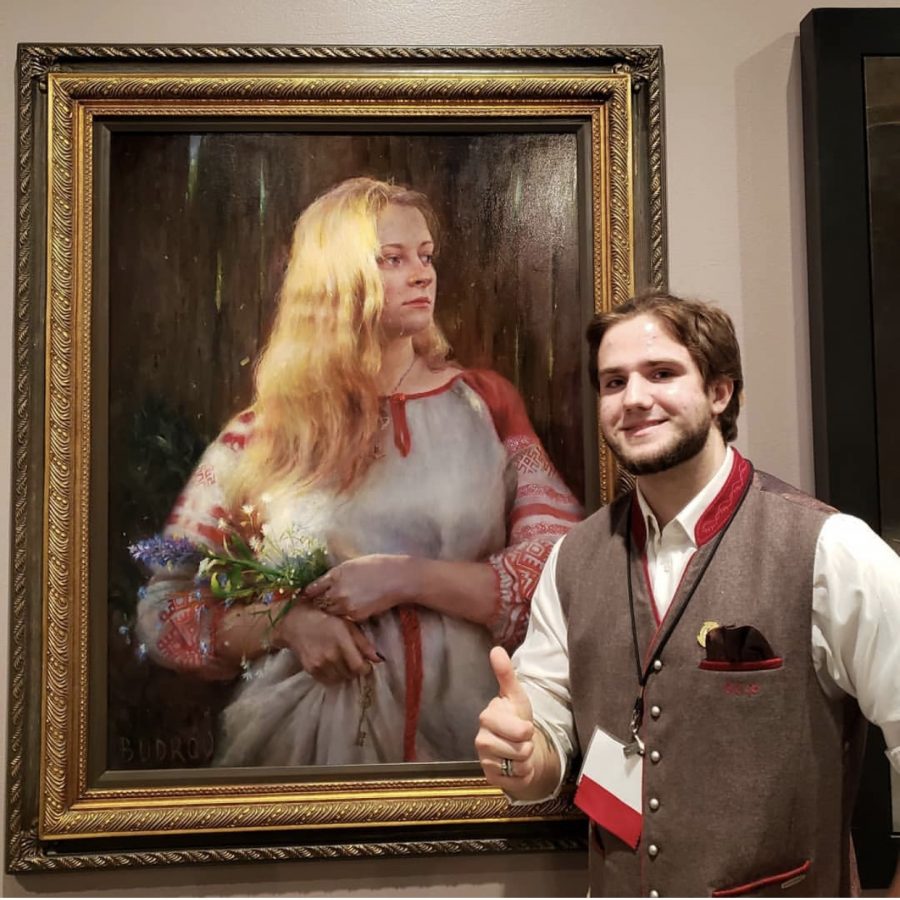 Nikita Budkov's career as a painter is taking off in Los Angeles.
After graduating from Cotter in 2014, Nikita decided to go to Los Angeles to study at the Los Angeles Academy of Figurative Arts.
"The school is pretty hardcore in teaching classic academic art as well as entertainment art (movies, games, etc). I went there for three years, but never got a Bachelor's because I decided to focus more on my portfolio and art skills, which is more important for an artist in my opinion, so I haven't finished my general education and graduated just with an Art Diploma. After my graduation in 2017 I started working in the fine art gallery American Legacy Fine Arts as a gallery and studio assistant," Budkov said.
Nikita is a contemporary traditional artist and he likes to touch the realm of imaginative realism.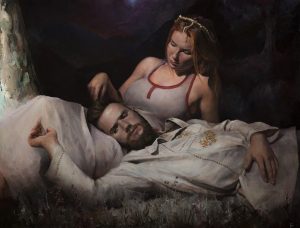 "Above all, I enjoy the atmosphere in arts, mood and narrative. I love sublime, darker, mysterious subjects. I am primarily a portrait artist, but I paint landscapes too. Last year I had 10 exhibitions I was a part of, including my very own solo show "The Songbook.""
"Most of my works are oil on panel and I paint portraits in indirect method, American-Russian representative style I guess. My landscapes I start in plein air (open air) and finish them in a studio."
This year, Nikita already  has had two shows in the former Pasadena Museum of California Art, in Pasadena, CA, and in Carnegie Art Museum, Oxnard, CA, and another one in Hillside Fine Art gallery, Claremont, CA. He is represented by two galleries: American Legacy Fine Arts in Pasadena, and Hillside Fine Art in Claremont. Nikita is also a Mentor Program member of California Art Club.
Nikita recently received the O1B visa, which is for artists, after working on it since last summer. To receive the visa he had to prove that he is an asset to the United States, and there is no one like him. He was approved and will stick around for three more years.
"It was not easy, mostly because I am fairly young and don't have a ton of awards or history (although I gained a lot this past year), but also, in my opinion, because of the tensions between our two countries. I will not comment on the politics here because I do not want to be misunderstood and it's the material for another project."
Budkov's last big painting "East of the Sun" just got awarded as the best "under 30 years old" in the bi monthly competition Plein Air Salon.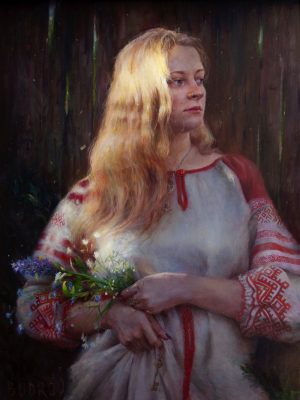 "I became a professional painter the moment I sold my first painting to a stranger in the exhibition. I can't fully support myself just by doing art yet, so I also work in the fine art gallery part time."
"I am mad crazy about works of 19th century artists, particularly pre-raphaelites like Waterhouse and Lord Leighton, Russian artists like Repin and Semiradsky, or French like Bouguereau and Gerome."
Other than making art, Nikita goes to the gym to workout, hikes, goes to concerts and art shows. He claims he is more so of an introverted person, regardless of how others perceive him.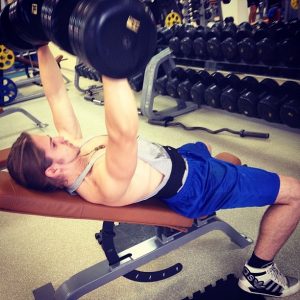 "I don't like crazy parties and would rather end up reading a book or having a midnight city bicycle ride."
Budkov tries to go home about once every year.
"I got to USA and Cotter as exchange student in 2012. Looking back now, I would change my Cotter routine to a more memorable one. I would take more risks and have more of an American High School experience than I did. In reality, I never liked the school system anywhere, so I was happy to graduate from Cotter and then graduate from LAAFA. I always felt that I know better what to do. Still, I am very thankful to some of Cotter teachers (Costello, Donlin, Horton, etc) for the talks we had. I am especially thankful to my art teacher Mary Forney for helping me to find this school in Los Angeles."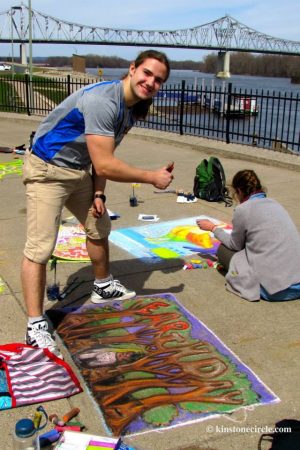 "My biggest memory in Cotter was becoming the Homecoming King, of course! What an honor."
Mike Donlin, a retired Cotter history teacher remembers Nikita Budkov clearly.
"Nikita, like most international students, appealed to me because it gave me a chance to learn about other people and cultures."
Donlin and Budkov had many conversations about life and how everything was going. Donlin found Nikita to be very fun around.
"In Nikita's case, I was fascinated by a couple of things. First of all, his dad was mayor of the city where the Tupolev aircraft bureau was located. As a matter of fact, I gave Nikita an old trading card of a Russian airplane that had been designed by Tupolev. He was so excited and that made me happy."
Donlin and Budkov had a very strong relationship between student and teacher.
"Secondly, Nikita was a student who jumped right in to the Cotter community academically and socially. He was very strong academically. He asked very insightful questions. I could count on him to ask the question that would lead the discussion in the direction I was hoping. Nikita is one of those kids you never forget and I have thought of him on many occasions. Teaching him, and students like him, is like stealing money."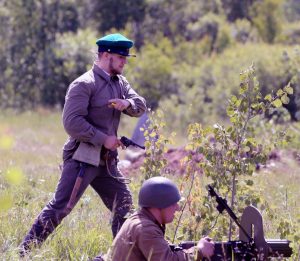 Diane McGonigle, one of Cotter's visual and preforming arts teachers, had Budkov as a student in the spring of 2014 in her Motion Graphics class.
" He was amazingly talented, self-motivated and confident in his approach to art. He was also a genuinely nice person to work with – one of those students that you would want to have in every art class!"
McGonigle recognized Budkov's forte was traditional drawing and painting, so he easily incorporated those skills into his animations and made them unique and stand out from others.
" I was really happy to learn that he went on to study art in Los Angeles and has gained some notoriety in the field!"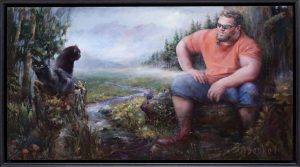 Mary Forney, the other visual and preforming arts teacher had Nikita for all of her classes: Advanced Drawing, Print Making, and Sculpture Making.
" I enjoyed having him a lot and I think another thing he brings to the classroom is that his caliber of work inspires other students."
Forney described Nikita as a pretty focused artist, he knew he wanted to study art when he came to Cotter. She described his major interest was illustrating mythical creatures.
"As an artist you need to be able to see thing in a different perspectives and have a broader approach. When a student comes into my class and already has skill and experience, I always try to push them to venture out, I did that with Nikita."
Forney signed Budkov up for an art contest at the Chicago Art Institute, this was her forcing him out of his comfort zone. He eventually won a scholarship, but ended up not accepting it.
"I remember him going to Chicago and going and getting a real taste of all of it, competition wise.. I think he did well, I remember being proud of him for that."
Forney helped Nikita find the Los Angeles Academy of Figurative Arts, she knew he wanted to go to an atelier styled school. This, focusing on the classical teaching and bare realism.
"I was not surprised at all where he ended up. I just really believed he had the ability and drive to do that. Sometimes I think he was surprised that I expected more from him."
Cotter will continue to keep an eye on Nikita's work.Make sure to check out his paintings here: