Hannah Graff: a life of musicality
"If music be the food of love, play on." William Shakespeare, Twelfth Night.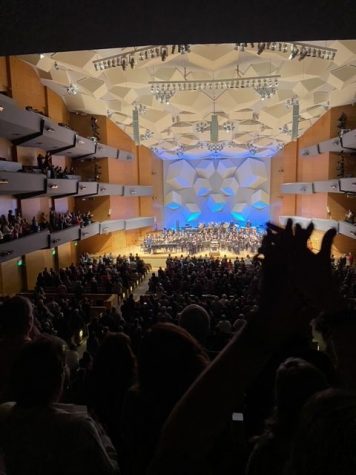 When it comes to academics and the arts, "Graff" is a well-known surname within the Cotter community. The youngest in a musically inclined family, Hannah Graff's experiences are unique and most definitely her own. 
Hannah's life, albeit only 17 years long, has been filled with the arts for as long as she can remember:
French horn for 7 years

Jazz ensembles for 5 years on bass guitar

Show choir and Cotter's 'Divas' for 2 years

Speech Team for 6 years (5 primarily in Extemporaneous Speaking, 1 primarily in Drama)

Musical theatre: 14 years total, 8 at Cotter

LaCrosse Youth Symphony Orchestra: 4 years playing french horn

St. Mary's University band: pit member on bass guitar for 2 years

Music Ministry: 11 years total, 6 at Cotter
Accomplishing numerous achievements through hard work and dedication:
Instrumental:
MMEA All-State Concert

Band

Dorian Festival: Featured

Soloist

Winona State Honor Band

Solo/Ensemble Contest: Superior 4x

Solo/Ensemble Contest: Best-In Site

SEMBDA 9-10

Band

Three Rivers Honor

Band

Minnesota Music Ambassadors

Jake Edstrom Scholarship Recipient: 2020

John Philip Sousa Award Recipient: 2021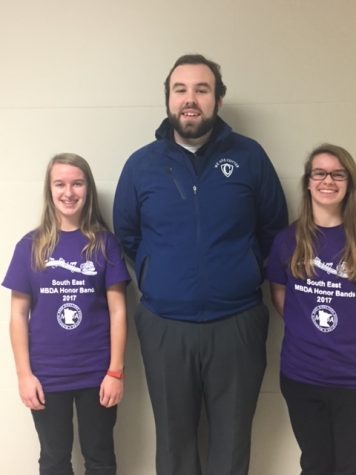 Choral:
MMEA All-State SSAA

Choir

[2020-2021]: Alto 1 

Concordia College All-State Lutheran

Choir

:

accepted summer 2020

Solo/Ensemble Contest: Superior 2x

Solo/Ensemble Contest: Best-In Site

Show Choir/Divas member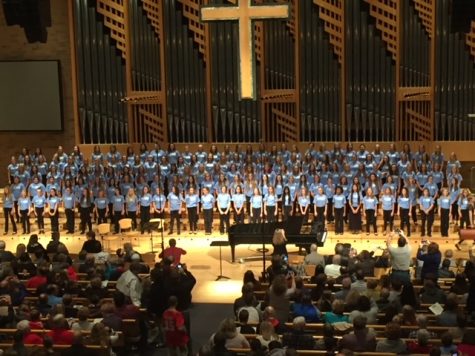 Theatrical/speech achievements:
State Speech: Extemp Speaking

State Speech: Dramatic Interpretation

National Speech & Debate Academic All-American

All-State Speaker Award

Chitty Chitty Bang Bang: Jemima Potts

Bye Bye Birdie: Kim MacAfee

Happy Birthday, Dear Grandpa: Frankie Hartley

Francis & Clare: The Musical (world premiere)
Hannah will be attending Creighton University in the fall.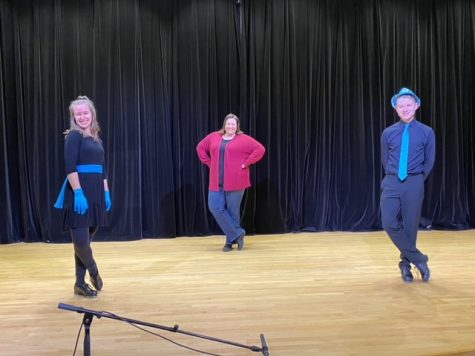 How did you start? Did you continue because you wanted to or because it was expected of you?
"Being involved in music was something my family encouraged me to do. I was singing in church choirs before I knew how to read and was in musicals at age 4. My mom gave me the option to take piano lessons in Kindergarten, and I started to play French horn and percussion in fifth grade. After it had been sitting in our basement for a year, I picked up bass guitar as well. I stuck with music because I loved it! I enjoy being in bands, combos, and choirs because I love the communal aspect of making music. Music is fun and doesn't ever cause stress, so it provides a great break from the rest of my crazy schedule."
What are some goals in your life?
"From a purely career standpoint, I would love to be an actress! However, my overall goals are to participate in community service through instrumental music, acting, tutoring, general dedication of time. I hope to be as amazing a parent as mine are too! Overall, just to be a good person."
Do you ever feel pressured to participate in every activity? 
"For the most part, I never felt pressured, but occasionally would find myself doing stuff just because everyone else had. However, most activities were by my own choice and I gained something from each different ensemble. And some activities (like musicals) guided my future plans to be an actress. Without musical exposure and training, I wouldn't have found my passion, and I likely wouldn't have gotten into the programs I've been accepted into."
Would you encourage others to have similar experiences?
"Yes! I realize having such a crazy schedule isn't for everyone, there are certainly moments that I felt have shaped me over time – positive mental health, a sense of community, challenging yourself to do better, going outside your comfort zone (especially with all the solos!!!), and so on. Music provides a benefit to everyone, even just a little bit!"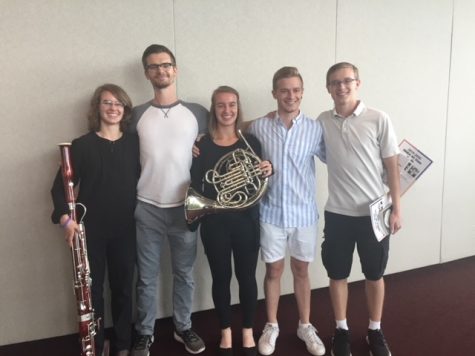 From her family:
Sophia (Viva) Graff is Hannah's older sister, and best friend. She is a Cotter grad of 2020 and currently attends Concordia College in Moorhead, Minn.
"Hannah does with music as she does with everything else in her life; she pours her heart and soul into every performance and doesn't stop working until it's the best," Viva said.
Nathan Graff is one of Hannah's older brothers. He is a Cotter grad of 2018 and currently attends Lawrence University in Appleton, WI.
"Hannah has a natural musical ear, incredible versatility on her instruments, remarkable musical instincts, and has an amazing work ethic that has helped her grow into the supremely talented & gifted musician that she is, as displayed in her senior recital," Nathan said.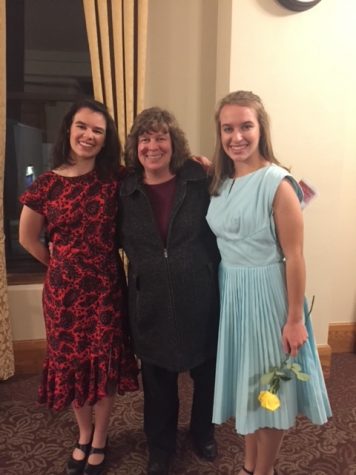 In your opinion, what is the most obvious change Hannah has had within the last year?
Laurie Ziliak is Hannah's mother and one of her greatest supporters.
 "I don't think we have seen as much change as much as an intensification of what makes Hannah Hannah. She has become more herself in this past year. Hannah has always been very easy going and happy to take life as it comes, and she has approached the pandemic in the same way. When graduation plans were in question last year, Hannah identified people who were very important to her sister and put together a 40-minute video of people wishing her sister a happy graduation. When All State Choir shifted online, she was just happy it was happening. She found a musical theater program that met every Saturday online. Had it been a normal year, the group would have met in person and she wouldn't have been able to be part of it." 
"Hannah also intensified her joys and passions this year as seen in her choices. In some activities, she decided to pursue what she enjoyed, not what might bring her accolades. Her practice time for vocal and instrumental music became much more about getting it right because she could, not for any specific purpose. Her recital really exemplifies this – she chose to do what she loves and used the platform to help others," Laurie said.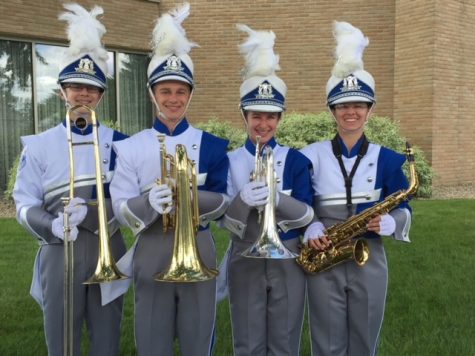 From her teachers and instructors: 
Tell me about Hannah as a student and performer. What stands out about her in particular? Is there a specific moment you remember?
Shawn Kennedy-Lee has been Hannah's French horn instructor since sixth grade.
 "I've had the privilege of watching Hannah grow into the caring, humble woman we all know. She has been taking private horn lessons from me since sixth grade. She pursues excellence fiercely in everything she does. She often asks to play something over in her lessons if she didn't think it was good enough the first time. Not only is she a talented horn player, she also sings, dances, and plays string bass and piano. I had never heard her sing or watched her dance until her senior recital this past month, and I was floored at the depth of her talent as a performer. I'm looking forward to seeing what she will do in the future," Kennedy-Lee said.
Cathy Snyder has been Hannah's choir director for a total of four years, 7-8 and 11-12 grades.
"Hannah is one of the hardest working students I've encountered in all my years of teaching. And incredibly talented! She is the first Cotter student ever to be selected for All-State Choir and All-State Band.  
She has been an incredibly important leader of our Choirs, always adding wonderful insight to our music. To say she is also kind, respectful, responsible, committed, smart, and talented…..would be understatements! It is students like Hannah that make the job of teaching a joy. She will be successful in whatever she pursues in the future – no doubt," Mrs. Snyder said.
Andrew Meurer has been Hannah's band director since 8th grade.
 "Hannah is an incredibly hard worker, and she makes sure to dedicate time each day to the things she is involved in. Sometimes kids that stand out in many areas tend to slack in one or two, but she has a knack for standing out in everything she does. 
I've been working with her since she was in junior high. With Hannah specifically, I recall all the times we spent in the theater or practice rooms recording her auditions for honor bands, all state, her recital, and college auditions. We must have spent over 20 hours together working on those recordings, and she taught me some great things about the pacings of recording sessions, and how to handle "struggle spots" as we push to get the best takes possible. Every time she'd show up for one, no matter how stressful it was, she always had an amazing attitude and level of professionalism that I will remember forever," Mr. Meurer said.
Cotter math teacher Mark Roeckers has been Hannah's theatre director at Cotter for 8 years.
 "Unfortunately, I was never one of Hannah's math teachers but was very honored to work with Hannah on the stage. I've been able to work with her both at Cotter and in the shows for Home & Community Options. In every show she has been involved, both as a smaller character or a lead, she has been a great role model and excellent young actress. She has always worked hard to memorize her lines, blocking, and choreography very early on in the rehearsal process. What stands out to me about Hannah is the wonderful mix of talent and humbleness!  She holds herself to a very high standard and works hard to do her best. She works well with suggestions and constructive criticism and works to better herself and is always helpful to those around her.  My memorable moments of Hannah come from being at her house and hearing and seeing songs and dances from shows long past, but still in her memory," Mr. Roeckers said.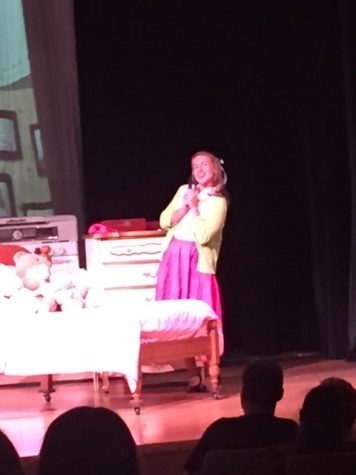 Reporter's note: I have known Hannah for almost 7 years now, playing alongside her in both marching and concert band.
As a journalist, I know it is unprofessional to add personal words and to speak in first person, but Hannah has grown to be such an important part of my life at Cotter; I cannot resist putting my own little segment in.
Every morning I show up at school, trudge my way to the band room, and there's Hannah- crouching on the floor, assembling her instrument. There are a few habits Hannah has that you notice by spending time with her, like how she scrunches her nose and closes her eyes when she messes up a piece we're working on in class, or that she says thank you at the worst possible times. Alessia Velasquez Nitti lovingly refers to Hannah's smile as, "the Hannah face," or "the snazzy smile thing."
In the summer, she's not only our section leader but an older sister and friend. I reeeeally hope this doesn't sound cheesy, but it kinda looks like a eulogy at this point, so I'll stop. 
You are a bright young woman, whose future is limitless with possibilities and paths to journey down. I cannot wait to see what you make of yourself. Until then, all the world's your stage.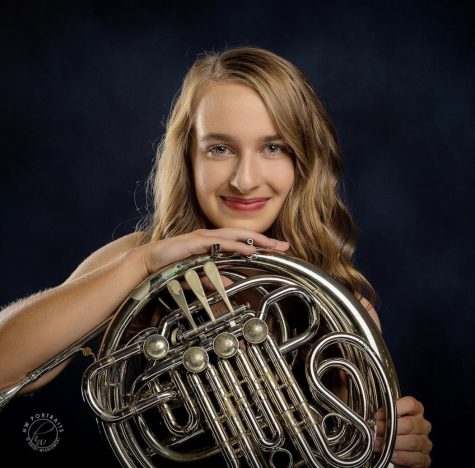 All images, unless credited  otherwise, are courtesy of Laurie Ziliak.
Leave a Comment