Return of Pings and increased numbers give Girls Cross Country high hopes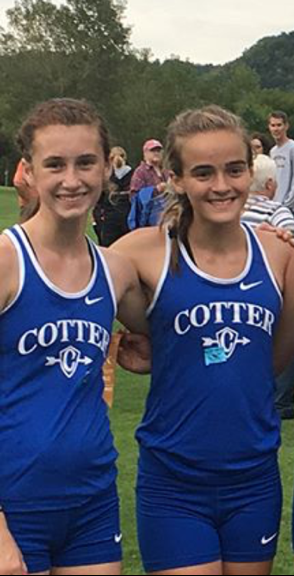 Hang on for a minute...we're trying to find some more stories you might like.
Cotter's girls cross country team is looking forward to another great season.
The coaches are Mike Costello, who has been coaching this team for 22 years, Ryan Ping, and Katie Halvorson. The team lost two seniors to graduation, Aubrey Allen and Anjuli Harris.  There are,  however, 12 athletes running this year which is a marked increase from the past few seasons.
The biggest additions are the return of Grace Ping, who was State champion as a 7th grader, and her younger sister Lauren, a current 7th grader, after spending a year in Park City, Utah.  Grace enters the season as the Minnesota's top ranked runner and Lauren took 3rd in the large meet at St. Olaf to start the year.
Aubrey Williams, a State qualifier last year, is the team's top returner from last year.  Morgan Arnold, Jennifer Lai, and Grace Menke are all returning runners as well that contribute greatly to the team.
"Although this sport is individual, we are a team and always cheer each other on," Jennifer Lai said, describing what she loves most about being on the team.
In addition, Julia Greshik, Fatima Mota, Pearl Mullins, Grace Finnerty, Maddie Kohner and Paige Lorenz are all in their first year of cross country.
In regards to the team's goals for this year, Mike Costello, head coach, said, "In addition to getting in great shape and having a strong team experience this team has high goals: to win conference, advance to the State meet and have a chance to win that meet. These will take a lot of improvement from where we are now as a group."
The girls will continue to race hard to achieve these goals.